Page 2 of 2 •

1, 2

A documentary in the works for Balloon Boy's dad

http://www.salon.com/wires/us/2010/01/16/D9D8VTJG0_us_balloon_boy_filmmaker/index.html

Once Richard Heene admitted in court that he wrongly sent authorities on a wild goose chase across Colorado to save the son he thought was aloft in a runaway balloon, friends and supporters seemed to take off just about as fast as that balloon.

All except for one: Steven C. Barber, a 48-year-old filmmaker who says he still believes Heene really thought his son was in the balloon as it spun wildly through the skies on Oct. 15. He plans to prove it, Barber says, when he releases the documentary "Balloon Boy: Guilty Until Proven Innocent" later this year.

Barber has known Heene for more than 10 years and says he has dozens of hours of film of the backyard inventor pursuing one science project after another. He compiled much of that footage, the filmmaker says, in an effort to help Heene land a TV reality show chronicling his science adventures.

What Heene was trying to do with the balloon, Barber says, was solve the world's traffic problems by creating a cheap, lighter-than-air vehicle that would allow people to float over congested freeways.

Although the idea may sound far-fetched to some, even ridiculous to others, Barber says, Heene is a "mad genius" with a penchant for exploring offbeat scientific theories.

"He's a freakin' genius, a really smart guy -- and he's a good guy," Barber, an intense ball of energy, says of Heene as he sits in front of his laptop computer in the breakfast nook of his cluttered beachfront apartment in the heart of Los Angeles' bohemian Venice community.

It is there that Barber is culling through a decade's worth of interviews with Heene, including footage he says he traveled to Colorado to shoot of the balloon before its Oct. 15 launch and footage taken afterward to get Heene's side of the story. He wasn't there on the actual day of the balloon debacle.

He's willing to show only one brief snippet of film, however, taken before the launch, when the balloon was still in pieces on the floor of Heene's Fort Collins, Colo., home and he was explaining how he planned to put it together. Barber said he filmed that segment for one of the many TV show pitches he helped put together for Heene over the years.

"I was out here for years trying to help him get TV shows," he says. "I've gotten him lots of pitches."

Barber declined to show the footage he took after the balloon returned to earth, saying he worries that if any of it is described or Heene is quoted it will only make it harder for him while he's in jail.

Barber, whose previous films include the World War II-era documentary "Return to Tarawa: The Leon Cooper Story," acknowledges he is announcing his plans for "Balloon Boy" just as he is beginning to promote another movie. His documentary, "Unbeaten," on a 267-mile wheelchair race through Alaska, is in theaters in Los Angeles and New York this week in an effort to get consideration for an Oscar at the 2011 Academy Awards.

Although he acknowledges the "Balloon Boy" publicity can't hurt "Unbeaten," Barber says, he's really pursuing the project because he owes it to his friend to try to right a wrong. He adds that he doubts he'll make any money on the venture, claiming investors lost a total of $200,000 on his last two films.

The only documentary filmmakers who profit, he says, are Ken Burns and Michael Moore.

Barber is also adamant that he didn't pay Heene for any of the footage he recorded, either before or after the misadventure. Doing so would violate the terms of Heene's probation and possibly land him in jail for considerably longer than the 90 days he is now doing after pleading guilty to falsely influencing authorities.

Heene sent those authorities racing across Colorado, as millions watched on TV, when he called 911 and said he believed his son was in the balloon.

Barber says he is certain Heene believed what he told authorities was true, and that as Heene himself has said since, he only admitted in court to lying to protect his Japanese-born wife, Mayumi, because he feared she might be deported. She pleaded guilty to a lesser charge.

Authorities still aren't buying that explanation.

"The bottom line is he entered his plea in court and was advised fully by the judge and the evidence was pretty overwhelming," Linda Jensen, a spokeswoman for the district attorney's office, told The Associated Press on Thursday.

Larimer County Sheriff Jim Alderden declined to discuss Heene, saying through a spokeswoman that he was tired of talking about him. Last week, however, he said the evidence was "overwhelming" that Heene and his wife were guilty of concocting the Balloon Boy scenario so Heene could realize his dream of landing a reality TV series.

Heene's phone has been disconnected, a family spokesman couldn't be located and his lawyer declined to discuss the documentary or Heene's guilty plea.

"I'm not his booking agent, I'm not his entertainment lawyer. You'd have to talk to Richard directly on that and he's in the Larimer County Jail," Heene's criminal lawyer, David A. Lane, said this week.

Which for the time being leaves pretty much just Barber to speak up for him.

_________________
We come to love not by finding a perfect person, but by learning to see an imperfect person perfectly

Even Casey has at least one person on her side too.

_________________
This site feels like running free on a playground on a sunny day with the wind in your hair and the birds chirping around you!~~eva
Oh yeah, life goes on, long after the thrill of livin' is gone.~~~JM

Julie

Admin




Posts

: 27930


Join date

: 2009-10-14


Age

: 29


Location

: buying balloons for eva's 68th birthday


Mood

:




_________________
We come to love not by finding a perfect person, but by learning to see an imperfect person perfectly
Balloon Boy Mom's Interviews Contradict Husband
http://www.digtriad.com/news/national_world/article.aspx?storyid=136305&catid=175

Fort Collins, CO -- The mother of the 6-year-old boy purported to be in a runaway balloon in Colorado repeatedly told authorities it was all a publicity stunt, contradicting what her husband told media before he reported to jail.

The video interviews obtained by the Fort Collins Coloradoan newspaper show Mayumi Heene telling sheriff's officials that the Oct. 15 event was a hoax that she and her husband orchestrated.

Mayumi Heene pleaded guilty to filing a false report, and her husband, Richard Heene, pleaded guilty to attempting to influence a public servant. He began serving a 30-day jail sentence Jan. 11. His wife will serve a 20-day sentence after him.

Richard Heene told The Associated Press before reporting to jail that he truly believed his son was in the balloon but pleaded guilty to prevent his wife from being deported to Japan.

_________________
We come to love not by finding a perfect person, but by learning to see an imperfect person perfectly
Mayumi Heene: Balloon Mom Admits Hoax (Video)
http://law.rightpundits.com/?p=1164

Mayumi Heene, otherwise known as the Balloon Mom admits to the hoax that she and her husband perpetrated that caught worldwide attention. The couple claimed their son, Falcon Heene, was aboard a homemade balloon that had escaped their back yard. A newly released video made during a police interview with Mayumi reveals her admission the whole thing was a hoax. You can watch the video below.

On October 15, 2009 the world watched on television as police and fire officials attempted to rescue the 6-year-old boy that everyone thought was aboard the helium balloon that drifted for five-hours, for miles and across three Colorado counties. When the boy wasn't found on the balloon, many feared he had fallen off it at some point during the flight. Others were suspicious that he might have never been on the balloon. As it turns out, he wasn't. Instead, he was hiding in an attic space above the family's garage.

Richard and Mayumi Heene initially claimed they didn't know that Falcon was hiding and thought that he was on the balloon. Later, they admitted the whole situation was an attempt to get publicity, notoriety and get an offer for a reality TV show. Then, as the family was doing television interviews about the incident, little Falcon let it slip that he was hiding in the garage 'for the show'. The secret was out, on national television. That didn't stop the parents from continuing to deny they had set up the whole thing, but they were busted all the same.

Both Richard Heene and Mayumii Heene eventually admitted the hoax. Then Richard stated he only admitted it to keep his wife, a Japanese national, from being deported and he went back to denying that the couple had hatched the scheme in hopes of getting a reality television show. Richard said his wife only made the confession because her first language is Japanese and under questioning she confused the English word 'hoax' thinking it meant 'an exhibition'.

Both the Heene's failed lie detector tests. When Richard was told he had failed the lie-detector, he continued to maintain his innocence. When Mayumi was told she had failed the lie-detector, she confessed and told the investigator about the hoax.

The Fort Collins Coloradoan released the video interviews in which the Balloon Mom admits the hoax.
"We tried working so hard to make money to survive. It's a shame to come up with this idea," Mayumi Heene told a Larimer County Sheriff's investigator during an interview days after the flight televised worldwide. "This was something that could take me, take us to the point we wanted to be at."

In November 2009, Maymumi Heene pleaded guilty to filing a false report and Richard Heene pleaded guilty to attempting to influence a public servant. She was sentenced to 20-days in jail and he was sentenced to 30-days in jail. He began serving his sentence on January 11, 2010. She will start serving her sentence when he is released from jail.

Below you can watch the video of the Mayumi Heene interview in which the balloon mom admits the hoax.



_________________
We come to love not by finding a perfect person, but by learning to see an imperfect person perfectly
Balloon Boy Dad Richard Heene Visited In Prison By Wife
http://www.radaronline.com/exclusives/2010/01/exclusive-balloon-boy-dad-richard-heene-visited-prison-wife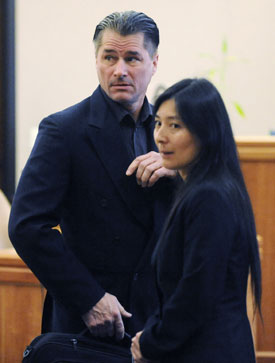 Balloon boy dad Richard Heene was visited by his wife Mayumi for the first time in jail over the weekend, RadarOnline.com can exclusively reveal.

The infamous reality dad is serving a 30-day stretch at Larimer County Detention Center in Fort Collins, Clorado, for masterminding the elaborate balloon hoax involving his son Falcon.

Heene is sharing a 12 ft by 5ft cell with another inmate among the general prison population at the 557 beds facility which housed over 10,000 inmates each year.
See Photos And Details Of Heene's Jail House Home
The Detention Center's Lt Pat McCosh told RadarOnline.com: "I can confirm that Mayumi Heene visited her husband over the weekend.

"Their meeting went smoothly and the general prison population seems to have taken to him - we have had no problems with him.
PHOTOS: Balloon Boy Family Out And About
"I wouldn't say he is pleased to be here but his general demeanor is good and he is getting along with the prison officers.
PHOTOS: The Heene Family on Wife Swap
"There have been no problems with Mr Heene since he entered our jail and we are hopeful it will remain that way."

Richard Heene, whose flying saucer balloon received national attention when it was thought his six-year-old son was inside, had been sentenced to 30 days in jail and another 60 days on a work release program.

His wife Mayumi received four years probation and was sentenced to 20 days in jail. Their son, Falcon, was in their home while his parents told police and others he was missing, leading everyone to think the child was in the runaway balloon.
VIDEO: Balloon Boy Dad's Bizarre Short Movie
The husband and wife have already been hit with a $42,000 bill from local, state and federal agencies for their October stunt when they claimed their six-year-old son had crawled into a hot air balloon in their back yard and been whisked away into the sky.

RadarOnline.com exclusively revealed that Heene could be released six days early from his 30 day jail sentence if he behaves himself while in prison.

_________________
We come to love not by finding a perfect person, but by learning to see an imperfect person perfectly
Review shows difference in restitution tally between Heene case, other big investigations
http://www.coloradoan.com/apps/pbcs.dll/article?AID=2010100125001

Prosecutors who are seeking almost $48,000 in restitution from Balloon Boy parents Richard and Mayumi Heene have sought far smaller amounts in other high-profile cases, including murders and other extensive searches.

In three high-profile cases examined, prosecutors did not seek compensation for the cost to conduct an investigation.

In the Heene case, prosecutors are seeking $11,792.51 to pay for the time of two investigators.

The matter of restitution in the Heene case is likely to be challenged today by Richard Heene's attorney David Lane, who has said he will challenge prosecutors who have sought compensation for payment to salaried investigators, among other costs.

Lane in the past has called the restitution amount "ridiculously high."

"They don't have to pay rescuers for doing their job," Lane has said previously. "This is cops getting paid to be cops whether they're sitting around doing nothing or tracking a balloon."

A breakdown of the numbers indicates prosecutors are seeking $36,016.53 for search-and-rescue costs and $11,792.51 for the ensuing criminal investigation.

About half, or $23,767.69, of the total proposed restitution figure is for hours worked by search-and-rescue teams and investigators who were already on duty and did not work overtime hours.

Lane said his client, or any defendant, should not have to pay for the routine costs to investigate and prosecute.

It is not unusual, however, for law enforcement or search-and-rescue groups to seek restitution for the costs involved in cases that turn out to be hoaxes.

In 2008, for example, Steve Powers was ordered to pay restitution for leading Boulder County authorities on a fruitless search for an AWOL Boulder Marine.

Powers told rescue crews Lance Cpl. Lance Hering had fallen and disappeared while hiking in Eldorado Canyon. He later admitted Hering, who was home on leave, had faked his disappearance.

The search involved more than 600 people and became the largest in Boulder County Sheriff's Office history.

Powers was ordered to pay $33,000 in restitution to offset the cost of the search.

Catherine Olguin, a spokeswoman for Boulder County District Attorney Stan Garnett, said in November that restitution orders are intended to make sure victims, including the taxpayers, are "made whole."

"They wouldn't be out looking for someone who is lost if the person hadn't faked being lost," she said.

In other legitimate cases, Larimer County has typically not sought restitution for the cost of the investigation.

In the case of James Whitler, a Loveland man who in May 2008 beat to death a process server who was delivering divorce papers, prosecutors did not seek any restitution.

Court documents indicate only a request of $866.99 for the cost of prosecution. The compensation is being sought to pay for the cost to pay for witnesses to travel to Larimer County to testify and for making copies of trial photos.

Whitler's attorneys have filed a motion challenging the costs for prosecution.

During Whitler's trial, prosecutors called numerous investigators who spent hundreds of hours on the case, but prosecutors have either not sought restitution for an investigation or have requested far less than from the Heenes.

In July 2008, the Larimer County Sheriff's Office led a search for Travis Kness, a Loveland man who had kidnapped his ex-girlfriend, driven her to the West Coast and then let her go in his car in the foothills west of Fort Collins about a week later. A search was eventually conducted for about seven hours using ATVs, SUVs and a helicopter.

According to court documents, prosecutors sought $9,360 for compensation for the search, an amount that pales in comparison with the $36,016.53 sought for the roughly four hours of search costs in the Heene case.

Court documents in the Kness case do not provide a detailed breakdown of the cost for the search. In the Heene case, however, prosecutors lay out specific costs for the search, including $16,009.31 for the use of two helicopters for about four hours.

In another murder case from 2008, prosecutors sought $6,408 for victims compensation. In that case, Joseph Curl murdered a woman and then tried to burn down her home. The restitution order does not indicate any compensation sought to pay for the damage done to the home.

_________________
We come to love not by finding a perfect person, but by learning to see an imperfect person perfectly
Page 2 of 2 •

1, 2

---
Permissions in this forum:
You
cannot
reply to topics in this forum