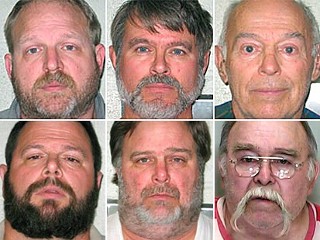 Bizarre new allegations are emerging from a sex abuse case that has already shocked Missouri with charges that six men subjected the family's children to assaults ranging from rape to bestiality.
Court documents released to ABCNews.com this week claim that at one point, several children belonging to Burrell Edward Mohler Jr. were forced to help kidnap a man, and were then given knives and ordered to kill him.
The children have also told investigators that they remembered a girl held captive in the family's Bates City, Mo., basement. Police state in the documents that a woman has come forward to say she was kept in the Mohlers' basement where she gave birth to two children.
Court papers allege that Mohler Jr. and his father, Burrell Edward Mohler Sr. buried the first of the infants in the basement's dirt floor and quickly covered the space with cement.
The newest accusations are in addition to charges that Mohler Sr. and Jr. along with four other adult male members of their family subjected six young children to years of abuse.
The grotesque nature of the allegations along with investigators' unwillingness to make hardly any of the physical evidence public has some questioning whether the charges could be true.
Some of the Mohler's relatives have described the suspects as God-fearing, hardworking folks.
"These fellas have all had respectable jobs, and for this to come up so many years later," Ron Gamble, a relative of the accused family members, said, according to the Associated Press. "In this country, you're innocent until proven guilty. Have they found any evidence? I haven't heard of any."
Police would not say if a search of the house and surrounding property had turned up any evidence of the infant in the basement or the box the child was reportedly buried. Police also have not indicated they found any evidence of the man the children claimed was killed, even though they told investigators they helped dig a grave for him.
So far, no one has been charged with murder.
Read more: http://www.abcnews.go.com/WN/allegations-brutal-sex-abuse-missouri-spark-outrage-suspicion/story?id=9119012&page=1

Justice4all

Admin




Posts

: 9745


Join date

: 2009-07-02


Age

: 43


Location

: Michigan


Mood

:



Missouri Property Searched After Claims of Horrific Sex Abuse, Murder

Investigators are digging up a rural Missouri property looking for notes they say six children buried in glass jars documenting years of nightmarish sexual abuse allegedly at the hands of their grandfather, father and three uncles.

The children reportedly wrote the notes between 1988 and 1995 because they claim they were told doing so would make their memories go away, police said.

Police who are excavating the 55 acre property said they are also looking for bodies, although they would not say whether they were looking for bodies of adults or children.

The five men, three of whom were lay ministers with the Community of Christ church, have been arrested and appeared in court today to hear the charges against them, including forcible sodomy, rape with a child younger than 12 and use of a child in a sexual performance. They were shackled at their wrists, waists and ankles.

The men did not enter pleas and did not appear to have legal representation

Burrell Edward Mohler Sr., 77, the grandfather of the five girls and one boy - now all adults - faces the worst of the charges that include forcible rape of a child under the age of 12, two counts of felony rape and two counts of use of a child in a sexual performance.

His son and the father of the five children, Burrell Edward Mohler Jr., 53, was charged with forcible rape of a child under the age of 14 and two counts of use of a child in a sexual performance.

Also charged with sexual abuse were the children's three uncles -- David Mohler, 52, Jared Mohler, 48, and Roland Mohler, 47.

"Obviously, it's disturbing," Missouri State Highway Patrol Corporal Bill Lowe told ABCNews.com today. "But anytime you are dealing with children, it is that way with us."

Lowe said a 26-year-old woman came to the Lafayette County Sheriff's Department in August claiming that she had been raped and was forced into an abortion before her 12th birthday.

According to a probable cause statement filed with the Lafayette County prosecutor's office, the woman also told investigators that her grandfather, father and two uncles forced a series of sexual abuses on the children ranging from sodomy to bestiality.

The documents also describe fake marriages between the girls and their uncles in which the alleged victim "and her sisters would pick flowers to adorn their hair. They also wore special dresses."

The "weddings" were consumated in a trailer parked in the yard or the chicken coop, according to the probable cause filing.

"She remembers her grandfather putting a blanket over the glass door and saying, 'You all have fun,'" the document states.

Since the woman first came to police in August, all six children have approached authorities and alleged abuse by all five men, according to the probable cause statements. The children, Lowe said, are now scattered across the United States.

Lowe said jars of notes could potentilly be damning pieces of evidence against the men if authorities can find them.

"The victims at the time were told if they write down these events that occured and put them in a glass jars and bury them, those bad memories would go away," Lowe said. Investigators are not sure where on the property the jars may be buried.

In addition, he said, "We've been given information that there could possibly be a body or bodies located on the property."

Lowe declined to comment on specifics with investigators conversations with the woman or her siblings, but said they had reason to believe authorities may find human bodies somewhere on the 55 acre property, which includes quite a bit of wooded land.

The search of the former Mohler property, "could take quite awhile, we're early on," Lowe said. "We're in for the long haul."

To aid in the search for the possible jars and bodies, investigators have brought in ground penetrating devices, cadaver dogs and a front loader.

Authorities have been looking back at missing persons reports from the years that the Mohler's lived on the property and are asking anyone who knows someone that disappeared in that area to come forward.

Police are also asking for the public's help in identifying more people who may potentially be victims. The family, Lowe said, does not have a history with police. "They weren't known to anybody out here," he said.

A woman named Shawna, Burrell Mohler Jr.'s wife of four months, told ABC's Kansas City affiliate KMBC that she believed the charges were untrue and the result of a longstanding fued with an ex-wife.

According to the police department's probable cause statement, Burrell Mohler Sr. purchased the property in 1974 and sold it to his son Mohler Jr. in 1995. Lowe said the property has since changed hands again and is now occupied by a different family.

http://abcnews.go.com/WN/police-search-missouri-house-claims-horrific-abuse-murder/story?id=9065174&page=1

Justice4all

Admin




Posts

: 9745


Join date

: 2009-07-02


Age

: 43


Location

: Michigan


Mood

:




Justice4all

Admin




Posts

: 9745


Join date

: 2009-07-02


Age

: 43


Location

: Michigan


Mood

:



Documents

Charges Filed Against Mohlers on Nov. 19, 2009

Columbia Search Warrant on Nov. 19, 2009

Justice4all

Admin




Posts

: 9745


Join date

: 2009-07-02


Age

: 43


Location

: Michigan


Mood

:



If these charges are true, this is one of the most disturbing cases I have ever seen. It is like Phillip Garrido times six.

Justice4all

Admin




Posts

: 9745


Join date

: 2009-07-02


Age

: 43


Location

: Michigan


Mood

:




Julie

Admin




Posts

: 27936


Join date

: 2009-10-14


Age

: 29


Location

: buying balloons for eva's 69th birthday


Mood

:



I can't even think of the words to describe this sick bunch of related freaks. My God....

Piper




Posts

: 10277


Join date

: 2009-07-12


Mood

:




---
Permissions in this forum:
You
cannot
reply to topics in this forum