Boys kidnapped 11 years ago found safe
http://www.komonews.com/news/local/80397797.html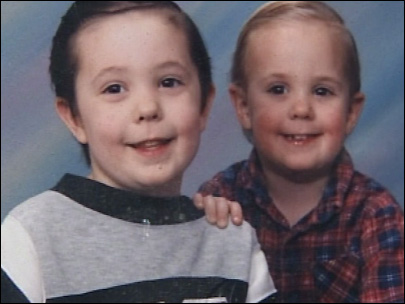 Spokane, Wash. -- Bill Connington's hasn't seen his two sons since his ex-wife abducted them and fled 11 years ago.
This week, he got the call he's been waiting for.
On Tuesday night authorities in Pennsylvania called Connington and told him his boys - ages 17 and 15 - were found safe in Milton, where their mother had been living under an alias.
Police arrested Jill Diane Haugen, 48, on Tuesday. Police said Haugen was living under the name Ann Thompson.
Connington told authorities he was "absolutely surprised" as he'd thought he'd never see his sons again.
"I always had the hope -- I never gave that up," Connington said. "I thought I might never see them again."
After Haugen took off with the boys, who were in Connington's custody, a warrant for her arrest was issued in 1998.
A break in the case came when a social worker grew suspicious after the boys, who were recently placed into foster care, revealed details about their past. One of the boys told the social worker his real name, and a Web search of the name revealed that he was missing.
Connington first heard from investigators on Monday night.
"I turned white like a ghost. I just started shaking," he said. "I was just in awe. I didn't know what to think I was just told they found them and nothing else and to contact the detectives."
Haugen told investigators she is victim of domestic violence and her sons are victims of sexual abuse; however, police say there's no merit to her claims.
Detectives said Haugen will be extradited to Washington. And Connington hopes she spends time in jail for kidnapping his kids.
"I just want to see justice done," he said.

_________________
We come to love not by finding a perfect person, but by learning to see an imperfect person perfectly
There really are some MIRACLES that happen! I hope that this father truly can give these children a good home. From what I heard on HLN today, they certainly did not have a good one with their mother. Sick bitch that she is. Who on earth would call authorities and tell them that they just don't want their kids anymore? I guess we should all feel grateful that she didn't just do away with them instead.
After re-reading the story above, I want to fill in something they said on HLN. It said that the mother actually CALLED the authorities and told them that she didn't want to take care of them anymore & that was why a case worker got involved to begin with. I'll do some more searching & see if I can find that info. The story above doesn't say that.
.....
Ok, I looked everywhere & didn't find it where the mother supposedly called authories herself & said she didn't want the anymore. I just wanted to update this & correct it because I can not verify it.

_________________
We come to love not by finding a perfect person, but by learning to see an imperfect person perfectly
I'm glad the boys will finally be reunited with their father after all these years. It is always a wonderful feeling to hear about missing children being found alive.

Justice4all

Admin




Posts

: 9745


Join date

: 2009-07-02


Age

: 43


Location

: Michigan


Mood

:



It sure is J4A. I don't know if the accusations that the mother is making against the father is for real or not, but I would imagine that there will be some sort of investigation. There is no good reason for the mother to take her children away from the father without having the court system involved. I would think that something would have been said much, much earlier against the father IF it were true. I'll keep my eye on this story. It sure is nice to know that there is always "hope" though.

_________________
We come to love not by finding a perfect person, but by learning to see an imperfect person perfectly
Since the father had custody, I'd say her claims of abuse against herself and the boys are most likely false. I'm glad the boys will be home with their father and can overcome what their mother has stolen from them, the love and presence of their father in their young lives. Miracles do happen!

Piper




Posts

: 10277


Join date

: 2009-07-12


Mood

:



Wow... I never know what to believe in these sad cases. I have seen with my own eyes, children awarded to the wrong parent because the wrong parent had more money than the other.. For these cases I always pray that the right parent take the kids and run like hell....

On account that social services was involved and they were in foster care, looks like she wasnt the right parent either..... Who knows if her claims are true or not...
There is prolly some truth to her claims, and for now, the boys are old enough to stand on their own and hopefully receive professional help for the life they have been given to this point.

Many ppl who have crummy childhoods, can come out of it unscathed and great ppl... My prayers are for these boys to fall into that category...

---
Permissions in this forum:
You
cannot
reply to topics in this forum