http://www.zanesvilletimesrecorder.com/article/20091231/NEWS01/912310303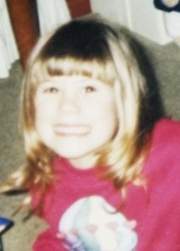 Parole hearing for convicted inmate set in January
ZANESVILLE -- When Kevin West sees a young child playing ball or waiting to sit on Santa Claus' lap, it brings tears to his eyes and a jolt to his heart.
West will never get to see the thrill of his daughter, Sara, opening presents on Christmas Day or escort her down an aisle on her wedding day.
Sara was murdered Feb. 14, 1993, when she was 5.
Her killer, Billy Joe Shafer, was 16 years old at the time. He has spent the past 16 years in prison and has a parole hearing in late January.
The West family, joined by thousands of people from across the country, and Shafer's father, Danny Shafer, of Philo, has spent the past three years gathering signatures on petitions to keep Shafer in prison for the rest of his life. They have more than 33,000 signatures.
According to law enforcement reports, Billy Joe Shafer admitted to stalking the West family, of shooting Sara, cutting her throat from ear to ear twice, sexually abusing her and mutilating her. He told detectives he drank her blood.
Seth, 21, Sara's brother, was found not far from home that night, in a cabin, where Shafer had taken him. Shafer is believed to have hidden in the woods waiting for Kevin West to return home.
Shafer was sentenced to 20 years to life for aggravated murder and has been at the Madison Correctional Institution.
Shirley West, Kevin West's mother, has made keeping Shafer in prison a life mission and is planning on a rally at 2 p.m. Sunday at the International Brotherhood of Electrical Workers on Ohio 60 for those wanting to see Shafer remain in prison. Shirley is having guest speakers, petitions to sign and information for those wanting to send letters to the Ohio State Parole Board.
"While I've forgiven him, I don't ever want him to see freedom," Shirley said. "I think he needs to stay in prison and if he can turn his life around in there, great. I just think he needs to get down on his knees and ask God for forgiveness."
Danny Shafer said he would never feel safe if his son is released.
"I know he's dangerous," Danny Shafer said. "If he ever got out, I'd have to put bars on my windows and doors. It's a shame. He seemed normal when he was a child, but then as he got older, it seemed like something went wrong with his brain."
Kevin West said if he could speak to Billy Joe Shafer, the one thing he would want to know is -- why?
"What drove him to that?" Kevin said. "Why not me? Why my child?"
Tracy Hickman, Sara's mother, said she believes God is the only one who can truly forgive Shafer. She can't.
"I have no doubt that if he's released, he'll do it again," Hickman said. "He's shown no remorse. I live with this every single day of my life, just like the rest of the family does. We have all suffered because of what this man did."
Shirley West and her family will be traveling to Columbus in January to speak to the parole board.
Anyone wishing to write the parole board needs to have the letters to the board by Jan. 15.
Last edited by Justice4all on Sun Jan 03, 2010 1:39 am; edited 1 time in total

Justice4all

Admin




Posts

: 9745


Join date

: 2009-07-02


Age

: 43


Location

: Michigan


Mood

:



I can't believe they are even considering letting this guy out on parole. They need to let him and every other pedophile and child killer rot in prison.

Justice4all

Admin




Posts

: 9745


Join date

: 2009-07-02


Age

: 43


Location

: Michigan


Mood

:



I agree, J4A!!! When a murderer is given a sentence, I think they should have to serve the whole thing...... there should be no such thing as parole.... especially for good behavior. It makes me sick. Paroling someone for good behavior, in essence, is like saying, "yes, he murdered a child, but he has served a few piddly years in prison without causing any problems, so we will let him out to try again".

If I was the mother of a murdered child, and they let that killer out early on parole, for ANY reason, I would be furious!!! I can't even fathom........
_________________
Updated 1/22/11

Snaz




Posts

: 4972


Join date

: 2009-07-11


Location

: Florida


Mood

:



All you have to do is Google the following names to see why sex offenders should never be let out of jail early.
Thomas Leggs Jr.
Phillip Garrido
Jesse Timmendequas
Michael Jacques
John Couey
Darrin Sanford

Justice4all

Admin




Posts

: 9745


Join date

: 2009-07-02


Age

: 43


Location

: Michigan


Mood

:



This guy deserves no mercy, period.

Piper




Posts

: 10277


Join date

: 2009-07-12


Mood

:



To submit forms to block parole, go to:

http://www.blockparole.com/
_________________
~Where the heart is willing, it will find a thousand ways. Where it is unwilling, it will find a thousand
excuses." ~
"Do not save your loving speeches
For your friends till they are dead;
Do not write them on their tombstones,
Speak them rather now instead."
- Anna Cummins
More of Sara's story is also on the blockparole.com website.
So sad that her life was taken by that monster
And it's also a strong statement when the murderer's own father is fighting to keep him locked up. I believe if he is let out, someone should be waiting outside the gates with a gun...
...but, now that I think about it, a gun would be much too humane.
_________________
~Where the heart is willing, it will find a thousand ways. Where it is unwilling, it will find a thousand
excuses." ~
"Do not save your loving speeches
For your friends till they are dead;
Do not write them on their tombstones,
Speak them rather now instead."
- Anna Cummins

---
Permissions in this forum:
You
cannot
reply to topics in this forum