Woodbridge, Virginia (CNN) -- The police photograph is chilling. In grainy black and white tones, it shows 13-year-old Martin Andrews sitting in a makeshift box, his leg chained. The look in his eyes is one of fear, fatigue and disbelief. He had just been rescued from a nightmare. Police pictures from 1973: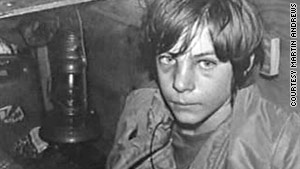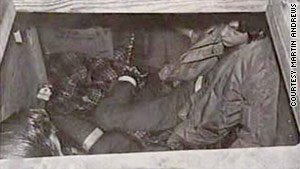 "I was abducted by a sexually violent predator by the name of Richard Ausley, who had been twice convicted for sexually assaulting young boys, and he had taken me for eight days," Andrews recalled of his ordeal 37 years ago. "I was left to die."
As a survivor of a sex crime, Andrews is one face of an issue the Supreme Court revisits Tuesday: civil commitment, which allows the government to keep sex offenders in custody even after they have served their sentences. Twenty states have such laws, including Virginia, where Andrews was held captive and repeatedly assaulted.
During Tuesday's arguments, the justices expressed some doubts about whether the state's duty to protect the public from "sexually dangerous" individuals might trump due process.
"Why doesn't the federal government's authority to have custody because of the criminal justice system end when the criminal justice system is exhausted?" said Chief Justice Roberts. "In other words, when the sentence is done?"
"You are talking about endangering the health and safety of people, so the government has some responsibility, doesn't it?" countered Justice Ruth Bader Ginsburg.
CNN normally doesn't name victims of sex crimes, but Andrews, now a victims' advocate, agreed to tell his story.
On the other side of the debate is the first sex offender released from Virginia's civil commitment program, and one of just a handful nationwide.
"I served my time for what I did, and I didn't feel like I should be incarcerated again," said this man, who asked that his identity not be revealed for fear of retribution. "It was a scary thing to know that you could be committed to a mental institution for the rest of your life."
The man said mandatory therapy helped him, but he thinks that could have been initiated while he was in prison.
There is widespread disagreement on whether civil commitment is a Catch-22. In discussions of the effects of sex crimes, nothing is simple or dispassionate.
The practice of confinement in mental hospitals or treatment centers for those with severe mental illness has been around the United States since its founding. Around the turn of the 20th century, many laws dealing with sexual psychopaths were passed. Over the decades, the laws were repealed or rarely applied.
Then, in 1990, Washington state became the first to pass an innovative civil commitment law specifically for violent sex offenders. California, Wisconsin and New York, among others, later followed. Such "predator laws" focused on risk assessment and prevention of re-offending. It is a concept that the general public may not be aware exists.
Please read the article and see what your feelings are:
http://www.cnn.com/2010/CRIME/01/12/scotus.sex.offender.law/index.html

Piper




Posts

: 10277


Join date

: 2009-07-12


Mood

:



Martin Andrews story from his book: Boxed In.... A Boy's Lost Week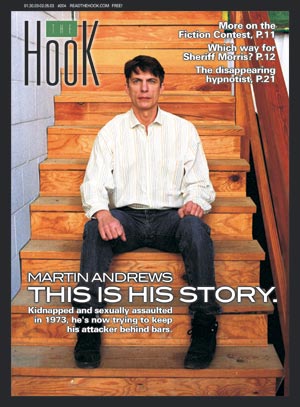 Warning: Martin recounts explicit details of his abduction and rape. It's a miracle he was found alive. He tells his story of torture and his will to live.
http://www.readthehook.com/stories/2003/01/30/coverStoryBoxedInABoysLost.html

Piper




Posts

: 10277


Join date

: 2009-07-12


Mood

:



Sex offenders are habitual offenders.....no cure for what is considered pleasure by perverts. Therefore, they are a continual threat to society. They forfeited their "rights" when they committed sexual abuse. It's time the law placed the "rights" of innocent people on a higher priority ahead of the "rights" of criminals.
Richard Allen Davis should never have been back on the streets either.

Cali




Posts

: 2968


Join date

: 2009-10-21


Age

: 81


Location

: California


Mood

:



Agreed, Cali........ONE time you're OUT.....

Piper




Posts

: 10277


Join date

: 2009-07-12


Mood

:



With all the medical problems in the world, cud we not benefit by using them for mandatory testing? Human guinea pigs..They have proven they are nothing but a liability and risk to human mankind? These monsters gave up their rights when they so violated the rights of others... Tit for tat...

Once is enough..On account that it has been proven over and over again, that there is no reform or treatment for these monsters, we shud implement a consequence for anyone committing such a heinous act, and just one time.

The Antarctica sounds like a great place for a facility to be built to experiment and explore drugs, and procedures. These monsters cud help pay for their keep and still live indefinitley. It wud be like giving bak...for all they have taken. Maybe they cud involentarily help us find cures diseases such as aids....If they were given the virus, I cant see how their medical journeys wudnt help docs find the answers and solutions...

---
Permissions in this forum:
You
cannot
reply to topics in this forum