Child abducted from Cobb County trailer park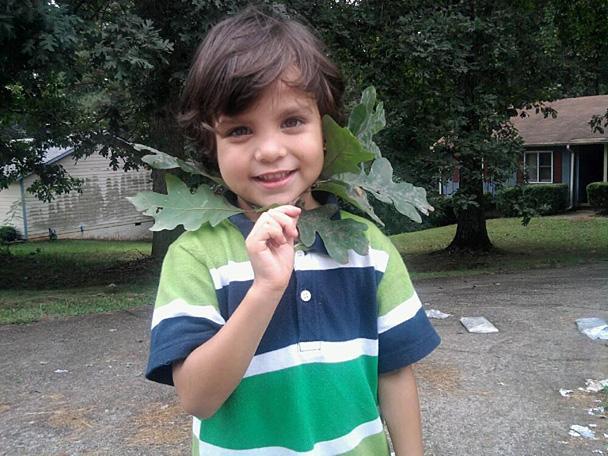 A Levi's Call alert has been posted for a 4-year-old boy reported kidnapped Thursday morning from a trailer park near Six Flags.

Christian Guevera was abducted from the Village Mobile Home Park in the 700 block of Six Flags Road about 8:50 a.m. by two Latino men wearing black ski masks, according to Cobb County police Sgt. Dana Pierce.

Pierce said Christian's mother had just returned from running an errand when she was assaulted and her child taken. WSB-TV reported that the attackers used a stun gun on the mother, but Pierce would not confirm that during a late-morning news conference.

The alleged abductors were in a white Chevrolet Suburban, Pierce said. He said investigators were checking security video from the entrance to the trailer park for additional clues.

According to the GBI alert, the child "is believed to be in extreme danger."

Christian is 3 feet tall, weighs 30 pounds and has brown eyes and long, brown "shaggy" hair. He was wearing pajamas with cars on them when he was abducted.

Pierce said detectives have not established a motive for the abduction.

Anyone with information on the child or the SUV should call 911.

Return to AJC.com for more details.
http://www.ajc.com/news/cobb/child-abducted-from-cobb-291066.html?cxtype=rss_news_128746

Justice4all

Admin




Posts

: 9745


Join date

: 2009-07-02


Age

: 43


Location

: Michigan


Mood

:



Oh no, not another one......
The article didn't say anything about his father... I wonder if there is one in the picture..... I'm sure if there is, the authorities are checking him out thoroughly. And the mother, too, for that matter.....
I pray he will be recovered safely.
_________________
Updated 1/22/11

Snaz




Posts

: 4972


Join date

: 2009-07-11


Location

: Florida


Mood

:



Hey, I just realized this little boy is from around my area.... well, not my county, but close....

And they put out an alert across the TV for the State of Georgia, I believe.....
_________________
Updated 1/22/11

Snaz




Posts

: 4972


Join date

: 2009-07-11


Location

: Florida


Mood

:



Just heard on the 5:00 news:

Christian has been found alive and safe in an apartment in a neighboring county.

Police won't say what the motive was for his kidnapping, but the grandfather insists it was for money..... apparently Christian's mother was the recipient of an insurance policy.

In the apartment were also at least two other people, who were taken into custody. No word on who those people were.
_________________
Updated 1/22/11

Snaz




Posts

: 4972


Join date

: 2009-07-11


Location

: Florida


Mood

:



Praise the Lord!!! Now we have ONE happy ending....

Estee




Posts

: 6002


Join date

: 2009-10-12


Age

: 77


Location

: Cozy little shack


Mood

:



Glad he is safe. This abduction sounds a bit staged, and it appears that LE isn't exactly buying the story yet.
Then, there is the mention of an insurance policy the mom had on him.
The puzzling thing about this is on 2/5/10 Eddie Salazar, an eight-month-old boy weighing 20 pounds, THREE feet tall, was reportedly abducted by two masked men dressed in black. Odd, yes.

Cali




Posts

: 2968


Join date

: 2009-10-21


Age

: 81


Location

: California


Mood

:




---
Permissions in this forum:
You
cannot
reply to topics in this forum