Virginia killer who sent taunting letter executed
March 19, 2010 2:08 a.m. EDT
The murderer of a 16-year-old girl who bragged about his crimes was electrocuted Thursday night, a spokesman for the Virginia Department of Corrections said.
Paul Warner Powell was pronounced dead at 9:09 p.m. at a correctional center in Jarratt, Virginia. He did not make a last statement at the execution attended by the victim's family.
Powell was convicted in the 1999 murder of Stacie Reed and the rape of her 14-year-old sister in their Manassas, Virginia, family home.
Powell's execution comes after Virginia Gov. Bob McDonnell denied him clemency and the U.S. Supreme Court declined to block the execution.
The killer claimed double jeopardy after state prosecutors put him on trial for a second time in the killing. In July, the high court delayed Powell's execution while considering the broader constitutional claims, which were finally rejected. Powell rejected lethal injection, the state's usual method of execution.
"I'm hopeful this is the last legal chapter in the long history of this case," said Powell's prosecutor, Prince William County Commonwealth's Attorney Paul Ebert.
"The survivors -- Stacie's mother and [her sister] -- have really been traumatized by delay after delay. Hopefully they're going to get some peace and closure after all these years."
CNN does not identify sexual assault victims without their permission, even though the surviving victim, now 25, has talked publicly about the case.
The crime shocked the Washington area. Reed knew Powell, then 20 and an admitted racist. The state's highest court eventually threw out the 2000 verdict in the first trial, saying prosecutors had not proven other necessary death-eligible offenses were committed against the 16-year-old. Such "aggravating" factors could include rape, attempted rape or robbery in commission of the murder.
The sexual assault and attempted murder of Reed's younger sister was upheld, and Powell was given a long prison sentence.
Powell, believing he was free from execution, proceeded to write a taunting, profanity-filled letter from behind bars to Ebert, laying out explicit details of the crime unknown to investigators at the time.
"Since I have already been indicted on first degree murder and the Va. Supreme Court said that I can't be charged with capital murder again, I figured I would tell you the rest of what happened on Jan. 29, 1999, to show you how stupid all of y'all ... are," wrote Powell, who is white.
He said he had gone to the family's home to confront Reed about dating a black man. He admitted pinning the victim, threatening to rape her, then stabbing her in the heart when the girl resisted. He then stomped on her throat.
"I guess I forgot to mention these events when I was being questioned. Ha Ha!" he wrote in 2001. "Do you just hate yourself for being so stupid ... and saving me?"
The killer also said that after that crime, he waited in the house until the younger girl returned from school, then attacked her, leaving her for dead. In the meantime, he drank iced tea from the family refrigerator and smoked a cigarette, part of the forensic evidence that investigators used to place Powell at the scene of the crime.
With this first-hand account from Powell, he was indicted again and charged with murder and attempted rape of Stacie Reed -- a capital-eligible crime. He was convicted again, and federal and state courts subsequently upheld the conviction on appeal.
http://www.cnn.com/2010/CRIME/03/19/virginia.execution/index.html

Piper




Posts

: 10277


Join date

: 2009-07-12


Mood

:



"Powell rejected lethal injection, the state's usual method of execution."

He chose to fry...good for him. I think being convicted in 1999 and executed in 2010 should be considered progress in the justice system.

Piper




Posts

: 10277


Join date

: 2009-07-12


Mood

:



Video from January 2010..........
Stacie's mother and sister speak out...


Having a big mouth just doesn't pay sometimes. Powell stupidly shot off his mouth in a letter to Commonwealth Attorney Paul Ebert and confessed to raping and brutally killing Stacie Reed, thinking that he couldn't be tried twice. It didn't work out so well for him. He got a stay of execution at the last minute back in July and his case headed for the Supreme Court. The Supreme Court will not stop his execution. The wheels of justice sometimes grind very slowly





http://www.antibvbl.net/index.php/tag/stacie-reed/
Last edited by Piper on Sun Mar 21, 2010 8:27 pm; edited 1 time in total (Reason for editing : add link....)

Piper




Posts

: 10277


Join date

: 2009-07-12


Mood

:



Stacie Reed - Murdered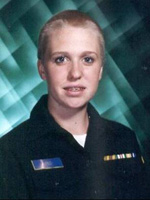 Kristie Reed - Left for dead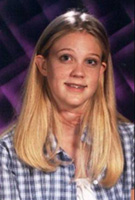 After finding her sister dead in her bedroom, Kristie was forced to the basement, bound with her own shoelaces, raped, strangled, wrists cut, stabbed, and her throat severely slashed. She was left for dead. No Witnesses – or so he thought – Kristie survived! It's only by God's grace and glory that we can share our story. May it bring you peace, hope and comfort through our Lord and Savior, Jesus Christ.
Stacie and Kristie's mother, Lorraine Reed , decided to take a stand. After the brutal attacks of Stacie and Kristie, Lorraine founded the S.T.A.C.I.E. Foundation. She implemented changes in the death notification and the response to victims in Prince William County by speaking about her daughters' case. Detective Richard Leonard, the master detective assigned to this case, joined her. Together they offer seminars on, "The Impact of Victimization" to victims, law enforcement agencies, victim witness programs, commonwealth's attorneys, universities (political science) and inmates. We've been dealt a life sentence. Now we must choose how to live it.
http://www.staciefoundation.org/

Piper




Posts

: 10277


Join date

: 2009-07-12


Mood

:



Says Lorraine , "Little did I know that morning when I dropped Stacie off at school that our life, as we knew it, would forever be changed because of one person's jealously and rage. As a victim, we found changes needed to be made where victims are concerned. We automatically assumed we would be included in every aspect. Not so! However, we took the time to find out why. In our search for justice, we not only found most of our answers, but we've met some extraordinary people and learned there are those willing to become involved and make a difference.
The past ten years have been painful for us, but knowing how hard my girls fought for their lives has given me the courage to remain focused and positive to work hard for the justice these girls deserve, as does every victim. By reaching out to others, we continue to find hope and healing. If we've helped one victim we've succeeded in our journey. However, our journey doesn't end here. We need your help! This is why we offer this seminar.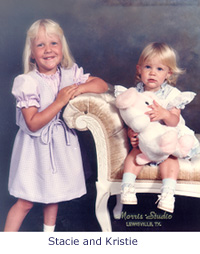 Piper




Posts

: 10277


Join date

: 2009-07-12


Mood

:



This will continue to haunt the family for the rest of their lives. But I hope that watching this sadistic POS fry may have brought some relief from the pain.

Cali




Posts

: 2968


Join date

: 2009-10-21


Age

: 81


Location

: California


Mood

:



Heal My Wounds, Leave My Scars…
A Mother's Testimony of Tragedy to Triumph & Forgiveness

S.T.A.C.I.E Foundation

Our day began like any other day. I woke the girls for school. Kristie road the school bus, it just wasn't cool to be seen being dropped off at school by your parents. I kissed Kristie goodbye, told I loved her and left to take Stacie to school. She didn't like riding the bus. That morning I dropped her off as usual, kissed her goodbye and told her I loved her. That was the last time I saw Stacie alive. I spoke to her again around noon, after she arrived home from school.

Stacie and Kristie were brutally attacked in our home in Manassas, VA. Stacie was viciously stabbed and killed. The perpetrator then waited in our home for over two hours for Kristie to return home from school.

The slashes on Kristie's neck are so prominent, my heart goes out to this family. I am personally glad that it took only 11 years for this murderer to be put to death. I am so very thankful to the Judge, Supreme Court and State of Virginia to serve justice so quickly (in Death Penalty time, which usually means 20yrs or so). We generally see these cases at the beginning and it's many years later when we see true justice served. I do not want to see Stacie and Kristie forgotten.

http://www.staciefoundation.org/testimonial.htm

Piper




Posts

: 10277


Join date

: 2009-07-12


Mood

:





Similar topics
---
Permissions in this forum:
You
cannot
reply to topics in this forum