Cops: Mom accused of killing infant ate brain

SAN ANTONIO - A woman charged with murdering her 3 1/2-week-old son used a knife and two swords to dismember the child and ate parts of his body, including his brain, before stabbing herself in the torso and slicing her own throat, police said Monday.

Otty Sanchez, 33, is charged with capital murder in the death of her infant son, Scott Wesley Buchholtz-Sanchez. She was recovering from her wounds at a hospital, and was being held on $1 million bail.

San Antonio Police Chief William McManus said the early Sunday morning attack occurred a week after the child's father moved out. The child's aunt and two cousins, ages 5 and 7, were in the house, but none were harmed.

Otty Sanchez's aunt, Gloria Sanchez, said her niece had been "in and out" of a psychiatric ward, and that the hospital called several months ago looking to check up on her. She did not elaborate on the nature of her niece's health problems.

"Otty didn't mean to do that. She was not in her right mind," a sobbing Gloria Sanchez told The Associated Press on Monday by phone. She said her family was devastated.

McManus, who appeared uncomfortable as he addressed reporters, said Sanchez apparently ate the child's brain and some other body parts. She also decapitated the infant, tore off his face and chewed off three of his toes before stabbing herself.

"It's too heinous for me to describe it any further," McManus said.

McManus described the crime scene as so grisly that police officers barely spoke to each other while looking through the house. Parts of the child were missing, including pieces that Sanchez allegedly ate.



"At this particular scene you could have heard a pin drop," McManus said. "No one was speaking. It was about as somber as it could have been."

'I killed my baby!'
Officers called to Sanchez's house at about 5 a.m. Sunday found her sitting on the couch screaming "I killed my baby! I killed my baby!" McManus said. They found the boy's body in a bedroom.

Police said Sanchez said the devil told her to kill her son and that she was hearing voices.

"It was a spontaneous utterance," McManus said.

Police said Sanchez did not have an attorney, and they declined to identify family members who might speak on her behalf.

No one answered the door Monday at Sanchez's one-story home, where the blinds were shut. A hopscotch pattern and red hearts were drawn on the walk leading up to the house.

Neighbor Luis Yanez, 23, said his kids went to school with one of the small children who lived at the house. He said he often saw a woman playing outside with the children but didn't know whether it was Otty.

"Why would you do that to your baby?" said Yanez, a tire technician. "It brings chills to you. They can't defend themselves."

Authorities said Sanchez and her sister took turns watching the baby Sunday morning, and that the boy was placed in Sanchez's care at about 1:30 a.m. Her sister discovered what happened about three hours later and called police.


Investigators are looking into whether postpartum depression could have played a role in the attack, McManus said. Authorities said they were looking into Sanchez's mental health history to see if there was anything "significant" but did not elaborate.
That is absolutely (to use a KC word) HORRIBLE.

Deb, do you have a link to the newspaper this is from. I would like to try to keep up with what happens next.

sitemama

Admin




Posts

: 29870


Join date

: 2009-07-09


Age

: 77


Location

: Caldwell/Catawba County, NC


Mood

:



http://www.mysanantonio.com/news/local_news/Mutilated_infants_mother_diagnosed_with_depression_psychosis.html

C4C.... This came from a San Antonio, Texas Newspaper where the crime occurred. But, I am sure any major news has it now. it's so horrendous ! OMG it's horrible. Those other poor children that were in that house too ! God bless them.
The hospital only called to check up on this woman, that was IT? It is too awful to even read.
And her hubby was at a concert ?
This is one of the most horrendous crimes that I've read about in my lifetime!
Someone must have known that this woman had serious mental problems. How could they not have done anything about it?

Booklover




Posts

: 2244


Join date

: 2009-07-10


Age

: 68



A Mother's Insanity
http://www.momlogic.com/2009/07/a_mothers_insanity_michelle_golland.php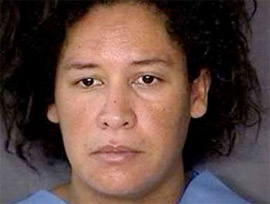 Why would a mother murder her child?
Dr. Michelle Golland: On Sunday morning, July 26th, the police arrived at the house of Otty Sanchez, 33, and found the mutilated body of her 3-week-old infant son, Scott. He had been decapitated, and the police believe some body parts had been consumed by Otty Sanchez. When the police arrived, they found the mother sitting on the sofa, crying. She had apparently tried to kill herself as well. In the week prior, she had broken up with the baby's father. Her family has reported that she had been diagnosed with schizophrenia earlier in life, and was currently suffering from postpartum psychosis after the birth of her son.
This horrific incident reminded me of the case of Andrea Yates, who killed her five young children in June 2001 by drowning them in the bathtub in her house. She had been suffering from severe postpartum depression and psychosis.
Postpartum psychosis is one of the most extreme postpartum mood disorders. Basically, it is when a woman who recently delivered a baby loses touch with reality. It affects between one and two women per 1,000 women who give birth.
The problem is that fewer than 20% of women share with their doctor that they are experiencing psychotic symptoms, and are often misdiagnosed with depression and subsequently given the wrong medication. Women who receive the correct diagnosis and treatment often experience postpartum depression before completely recovering. Postpartum psychosis has a 5% suicide rate and a 4% infanticide rate.
Signs of Postpartum Psychosis
Symptoms usually occur within the first two to three weeks after delivery, but can happen anytime within the first three months after giving birth. The symptoms seem to come on suddenly, and in 80% of cases, happen three to fourteen days after being symptom-free.
Signs include:
• Hallucinations
• Delusions
• Illogical thoughts
• Refusing to eat
• Insomnia
• Extreme feelings of anxiety and agitation
• Periods of delirium or mania
• Suicidal or homicidal thoughts
Who Is at Risk?
Women who have been diagnosed with psychosis, bipolar disorder, or schizophrenia are at greater risk. Also, women with a family history of any of the above disorders have a higher risk. If a woman has had a past incident of postpartum psychosis, she is between 20-50% more likely to have another incident with her future pregnancies.
Causes of Postpartum Psychosis
There are a variety of factors that contribute to postpartum psychosis. The most important one is the mother's changing hormones after delivery of her child. Other issues seem to be lack of social support and emotional support. A mother's sense of low self-esteem, financial issues, and other major life changes such as moving or starting a new job may also increase chances of a psychotic break.
Treatment
There should be a multidisciplinary response to postpartum psychosis. Antipsychotic medication is typically used, as well as anti-depressants and anti-anxiety medication. This disorder must be treated as a medical emergency, and treated with immediate attention by the father and the extended family. The mother may need to be hospitalized and/or separated from her child during the most critical time. The mother should also receive traditional talk therapy and possibly join a support group to deal with the emotional fallout from the postpartum psychotic episode. With effective and quick treatment, most women recover from their disorder.
How could a mother eat her own baby?

The case of Otty Sanchez is shocking and gruesome. But it's also a cautionary tale about how we treat new mothers
http://www.salon.com/mwt/feature/2009/08/01/otty_sanchez/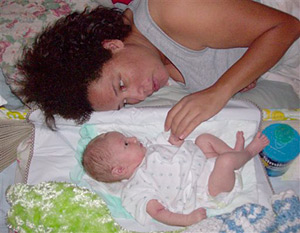 Otty Sanchez and her son, Scott Wesley Buchholz-Sanchez, whom she's accused of killing, in a July 18 photo.
Aug. 1, 2009 | As news of the 33-year-old Texas woman who murdered her infant son and then ate bits of his brain and a few toes zips around the Internet, our morbid curiosity grows. The story of Otty Sanchez taps deep veins, unfolding like a Greek tragedy: A new mother breaks with her lover three weeks after giving birth to their child. Insane with grief, she hears voices telling her to kill her baby -- the fruit of their union. After murdering the infant, she begins to consume him, returning him to the body from whence he so recently came. In a moment of clarity she sees what she has done. Horrified, she tries to take her own life, stabbing herself in the heart and slitting her own throat.
Our literature profs would have us list the sweeping, irresistible themes: love, abandonment, insanity, infanticide, cannibalism, religion, an epic battle between the forces of good and evil ("He made me do it," Sanchez allegedly wailed in the aftermath, referring to the devil), divine retribution.
As fiction it is high art.
The Sanchez incident nestles neatly into a literary canon that packages parental ambivalence into clear plots and simple motives: Abraham, who is told by God to sacrifice his son Isaac as a burnt offering; Medea, who kills her two sons to punish their father for leaving her; Hansel and Gretel, abandoned by selfish parents because it was so costly to feed them (leaving them prey to a mean old woman who planned to eat more than their brains and toes).
Alas, the details of the Otty Sanchez incident are now trickling out, ruining our tidy narrative with a clutter of problematic facts. Already our story is getting unruly.
Both Sanchez (mom) and Scott Buchholz (dad) have schizophrenia. Sanchez was off her drugs. She was in counseling for postpartum depression -- but there were signs that it was worsening. Sanchez and Buchholz separated when the baby was 3 weeks old. Sanchez came by Buchholz's house a few days later and "stormed out" when Buchholz demanded a copy of the birth certificate. Buchholz called the police when Sanchez put the baby's car seat in the front, neglected to strap him in, and sped off. The police followed up in a lackadaisical manner. Sanchez, possibly experiencing the onset of a psychotic break, sought help in a local hospital emergency room but was released in less than 24 hours and sent home to care for her newborn. Sanchez heard voices. The voices told her to kill the baby. She gave the baby to her sister, who shares the house with her; she did not want the child near her. Then, when Sanchez finally seemed calm, the sister returned the baby to her. Sanchez killed the baby, tried to kill herself, but did not succeed.
Questions muddle up our clean story line.
What was going on between Buchholz and Sanchez that they separated three weeks after their baby was born?
With all new parents this is a stressful time. We are all reeling during these early days, struggling to define what our roles will be, how to distribute baby care fairly (or, in any case, develop a job-share we can live with), suffer from sleep deprivation, are anxious about our new identity, remain frazzled by a crying infant and, for moms, are still recovering physically from giving birth. Buchholz and Sanchez, with a history of mental illness, are hit with a double whammy here; coping was clearly especially difficult.
How is it that Buchholz has known Sanchez for six years, lived with her, and had a baby with her, as the AP reports, but professes to be unaware until last week that she had been diagnosed as schizophrenic?
Since Buchholz himself is schizophrenic, currently on a six-drug daily regimen, this does not seem like something Sanchez would be too embarrassed to share with him. Maybe she did mention it, but he forgot? Or perhaps he was in denial, dismissing her behavior as "baby blues" or simple "bitchiness"?
Why was Sanchez, who was in counseling for postpartum depression and who had a history of mental illness, off her meds?
Women get a lot of mixed messages about the dangers of drugs during pregnancy and while breast-feeding -- even though postpartum is a particularly dangerous time for women to do without. They want to do right by their baby, but aren't sure what "right" is. And doctors often don't know much about how such drugs affect the fetus or breast-feeding newborn. Historically, physician drug labels have simply sorted the level of danger into vague categories without providing specific information about the quantity of the drug transferred to the infant via breast milk, nor of the impact. In 2008, the FDA began changing its labeling criteria to provide more detailed information -- but doctors are still behind the curve here. When in doubt, many are reluctant to prescribe drugs, especially ones considered optional, like antidepressants, to pregnant or nursing women. The bible of women's healthcare, "Our Bodies, Ourselves," advises women to "work with a provider who is knowledgeable about medications and breast-feeding" but such folks can be hard to come by. Weigh the pros and cons, the authors suggest, adding that "[w]hile the second generation of antidepressants do pass into breast milk, the short-term negative effects on babies, if any, appear to be transient." Still, in what has become an enduring refrain when it comes to drugs, pregnancy and breast-feeding, the authors note: "Additional research ... is needed."
Finally, one has to wonder how it is that a new mother diagnosed as schizophrenic and suffering from severe postpartum depression showed up in a hospital emergency room in some kind of mental health crisis and was blithely sent home?
The details of just what transpired at the hospital haven't been released yet, but if Sanchez's postpartum psychosis went untreated, that would not be unusual. According to the American Psychological Association, mental health issues are regularly missed in hospital emergency rooms. Indeed, a 2005 article in the organization's Journal of Consulting and Clinical Psychology found that emergency room doctors routinely overlooked problems like schizophrenia, depression and anxiety, finding a psychiatric diagnosis rate of 5.27 percent in emergency rooms, compared to a national prevalence rate of 20 to 28 percent. For African-Americans, the rate of under-diagnosis is even higher. (The study did not look at rates for Hispanics.)
These particulars, after a while, make it hard to shoehorn the Sanchez story into our fictional literary canon. After all, Medea and Abraham and the old witch in Hansel and Gretel are buoyed along on a current of "inevitability" that floats our fictional narratives of infanticide. This Sanchez case suggests -- oh, bother -- that there are some steps we as a society should be taking to support new mothers and the mentally ill.
Indeed, the Sanchez story seems to fit better among the nonfiction narratives of mothers like Susan Smith, Andrea Yates and Banita Jacks. Smith is the one who drove her two boys into a South Carolina lake in 1994. Yates is the Texas mom who drowned her five kids in a bathtub in 2001. Banita Jacks is the mother who killed her four children in 2008 and lived with their decomposing bodies in a D.C. rowhouse for months. Sanchez joins this illustrious list, becoming the latest in a long and baffling history of "killer moms" (she has already been dubbed "Cannibal Mom") who pop up as salacious reading before dropping out of sight. With these stories devoid of any context, the media and the public tease out the narrow specifics of each crime and use each fact as a brick in the wall that divides these women from the rest of humanity, separates us from the "monsters."
But juries, who sit through weeks of testimony, hear these women's lives unfold in complex ways. Their acts are "heinous," but the women themselves grow increasingly humanized. It is not simply depression, schizophrenia or postpartum psychosis that are invoked in their defense. (Plenty of ordinary murderers plead not guilty due to insanity.) It is the fact that these women have killed out of misguided love. "I felt I couldn't be a good mom anymore, but I didn't want my children to grow up without a mom," Susan Smith confessed, explaining that she intended to kill herself along with her children. "I felt I had to end our lives to protect us all from any grief or harm." (Toni Morrison beautifully explores aspects of this phenomenon of "protective murder" with the ex-slave mother, Sethe, in "Beloved.") Juries may convict these moms -- and it's hard not to since the evidence is typically irrefutable -- but they are almost always reluctant to mete out harsh sentences.
Problem is, the thick brick wall prosecutors try to construct to separate "monster moms" from the rest of us is more like a porous membrane. Not because most of us have considered killing our kids. On the contrary. Most of us would do almost anything to protect our kids. But, if these moms, in their insanity, thought they were, in fact, protecting their kids from an untenable life or the grasp of the devil or an eternity in hell, then we empathize just a bit too much with this impulse to "save" our babies.
Scott Buchholz is now screaming for the death penalty, insisting that the mother of his baby ought to "burn in hell" for this. But most of us know that, as drugs and therapy usher Otty Sanchez back to reality, she won't need the law or religion to punish her; she has constructed her own hell from which she'll never escape.
This is the fate that Otty Sanchez is condemned to share with all women in the "killer mom" canon.
It is something that lawmakers in England -- and 29 other countries, including Australia and Canada -- have long understood. In 1938, England passed the Infanticide Act, which automatically reduces a mother's murder of her baby to a manslaughter charge, understanding much better than Americans that mothers like Sanchez are clearly operating from a twisted reality over which they have no control.
Sentencing, really, is superfluous.

_________________
We come to love not by finding a perfect person, but by learning to see an imperfect person perfectly
Too much information about horrific slaying of newborn
http://www.mysanantonio.com/opinion/columnists/Too_much_information_about_horrific_slaying_of_newborn.html
Something beyond terrible happened last weekend in San Antonio. A young mother killed her newborn baby boy. It was aberrant, abhorrent and many other descriptive words from A to Z.

Because it was terrible and out of the ordinary, the Express-News led the Monday paper with "Infant killed in horrific slaying," by police reporters Michelle Mondo and Eva Ruth Moravec. Their story was accurate, provided details and captured the violent nature of the crime.

Following a Monday news conference with San Antonio Police Chief William McManus, the Express-News put the story on Page 1 again Tuesday. "Family cites mom's past mental illness" included a photo of the mother, Otty Sanchez, who confessed to the murder, gazing lovingly at baby Scott Wesley Buchholz Sanchez, sometime after he was born June 30.

The second-day story included more explicit reporting. Those details — coupled with the ironical photograph — sparked a massive protest from readers.

"I'm appalled," one woman. "You have an uncaring heart. How could you print that photo of a loving mother staring at a child she decapitated? You owe your readers an apology."

"Do you need to put the gory details in two days in a row?" a male reader asked. "You should have warned us the story was this graphic."

"It makes me sick," "horrible," "salacious," "I'm totally revolted," "it broke my heart," "an all-time low" and "tabloid-style sensationalism" were among the comments made about the Express-News coverage.

To our credit, we didn't ignore the criticism. We published letters to the editor beginning Wednesday that reflected a sampling of what other readers had to say.

The feedback weighed on me, and I struggled with our reporting — and editing. Normally, because of space limitations, we shirk detail. However, as a father who remembers my sons when they were a month old, the vivid detail of this story sickened me.

Amid the onslaught, including numerous calls forwarded to me from the newsroom, where this story originated, I asked Managing Editor Brett Thacker for a comment to share with readers.

"We understand that what we described was extraordinarily graphic and difficult to read," he acknowledged, "but we didn't set out to be sensational. As the story unfolded, even on the first day, it was increasingly clear that this killing likely was an extreme case of postpartum depression ... Our story (Wednesday) bears that out.

"What we hope is that the disturbing details — juxtaposed with the seemingly 'normal' picture on (the Page 1 Tuesday) summon even greater awareness in the community to the gaps in our mental health system."

Thacker hints at the passion reporters have while chasing a story, trying to run down and confirm details. Our reporters did their job, but — and maybe I'm getting soft — I think our editors shouldn't have printed every violent, wretched detail we reported. This horrible event in the life of our city had too much information for me.

As another reader, Ginger Merritt, told me late last week: "Some standards of civility need to be met. You crossed the line."

Texas Gothic: cannibalism and the child
http://infocult.typepad.com/infocult/2009/08/texas-gothic-cannibalism-and-the-child.html
In a deeply horrible story of family and cannibalism, a Texan woman killed her baby son, then ate parts of the body.
Apparently, [Otty Sanchez] heard voices instructing her to kill the infant. Swords and knives were used on the small baby and then she allegedly ate several of his toes and part of his brain.


The event summons up a range of issues and horror, from postpartum depression to state medical health systems. This Salon article does a good job of exploring them.

There is additionally a media horror angle to the story, with complaints of too much media coverage, and even concern that Texas mothers are too unfairly, too frequently accused of child murder. There's even wonderment at a Westboro Baptist Church coincidence.

Sensationalized crap
http://www.sltrib.com/Opinion/ci_12969206
There is absolutely no excuse for the horrors allegedly committed by Otty Sanchez of San Antonio, Texas. Likewise, there is no excuse for the exploitative descriptions of said horrors splashed all over The Tribune ("Baby dismemberment stuns investigators," Tribune , July 28). Associated Press journalist Paul J. Webber is reporting facts and allegations, but he could tell an informative and disturbing tale without the graphic details of horrible mutilation.

My stomach turns when I recall the story and I'm deeply concerned about readers, young and old, whose reaction may make mine seem tame. I encourage my children (10 and 15) to read the newspaper, and as a longtime reader I'd like to continue to stress the importance of reviewing the daily news. How can I do so with a clear conscience, knowing that the newspaper we regard so highly doesn't care to exercise a little editorial control in the name of good taste?

The Trib 's writers and editors are talented enough to distinguish real news from sensationalized crap. Aren't they?

Shelle DeBusk

Sandy

Bizarre Anti Gay Group Pickets County Jail
claims 'homosexuals' were behind the murder of Scottie Buckholz
http://www.q1019.com/cc-common/news/sections/newsarticle.html?feed=119078&article=5849697
A hateful Kansas 'church' picketed the Bexar County Jail this afternoon, claiming 'homosexuals' were somehow the reason that Otty Sanchez allegedly killed and decapitated her three week old baby, 1200 WOAI news reports.

The Westboro Baptist Church, which is not affiliated with the Southern Baptists or any Baptist organization, frequently pickets the funerals of U.S. service members, claiming the wars in Iraq and Afghanistan are 'God's punishment for the U.S. condoning homosexuality.'

Church members issued a rambling statement calling Sanchez 'the daughter of your doings.' It's the second time the organization, which is essentially one man and his extended family, has picketed the jail.

They came several years ago after a Sheriff's captain underwent a sex change operation.


The group plans a weekend of protests in San Antonio, including pickets at Cornerstone Church, several Catholic and Jewish groups, and UTSA.

Baby blues explained to moms
http://www.mysanantonio.com/news/local_news/53361682.html
As horrifying as the decapitation of 4-week-old Baby Scotty was three weeks ago, Maria Zeitz knows it could have been prevented.

Since 2007, she has taught the Beyond Baby Blues class at Methodist Women's Health.

"When we see these horrible stories in the news like Otty Sanchez or Andrea Yates, I always think about how many people failed the mothers ... those babies," Zeitz told a class of pregnant women and their partners last week.

Scotty's mother, Otty Sanchez, confessed to killing her son July 26. Sanchez had been diagnosed with postpartum depression and schizophrenia, according to her family.

Zeitz told the class about how common postpartum disorders can be, and she reminded them of how tragic the outcome can be if symptoms aren't recognized.

The monthly class is informal. Zeitz runs it a bit like a support group. Before starting the session, she asked people to share their reasons for attending. Many women, some of them first-time mothers, referenced Baby Scotty's story as their impetus.

"I have a risk because I've been depressed before. I want to get all the (information) ahead of time," said Valerie Thompson, who is pregnant with her second child.

Like Thompson, many of the expectant mothers said they already had dealt with depression. Lisa, a single 26-year-old, said she had a history of depression and panic attacks.

Another woman said she was a nurse who worked with pregnant women and she wanted to learn so she could better help her patients. And one woman said she worked for Child Protective Services and saw depression at its worst.

Zeitz recited statistics — more than 80 percent of mothers get postpartum blues — infused with real-life examples.

She told participants that crying for no apparent reason, loneliness, irritability and insomnia are symptoms of the blues, which normally happen as soon as birth and for the first two weeks. She also said schizophrenia and the more serious postpartum depression increase the risk of the rare but often tragic postpartum psychosis, which is believed to affect more than 1 in 1,000 mothers.

Zeitz, a nurse and psychotherapist, had experienced postpartum anxiety and depression.

"I know what it's like to be overwhelmed," she said. "I learned that I couldn't do it all. It is hard."

She told the mothers to take good care of themselves as their bodies adjust to the hormone and chemical changes during and after pregnancy. She also told the mothers' partners to be supportive and to watch for signs of more serious mental disorders.

"The bottom line is, if you're having more bad days than you're having good days, and if you're not feeling connected to the baby, it's time to get help. Tell someone," Zeitz said.

She invited the women to a free support group twice a month.

And just as mothers often do, Zeitz gently extended one final nurturing lifeline.

"Make sure you have my card," she said. "My cell number and e-mail are there, so let me know how you're doing. I'd love to hear from you."

The class, located in the Medical Center area, is free. To register, call 575-0500.

_________________
We come to love not by finding a perfect person, but by learning to see an imperfect person perfectly

---
Permissions in this forum:
You
cannot
reply to topics in this forum