Vt. Police: Body Is Missing 78-Year-Old Grandma's
October 6, 2010
Updated: 5 hours 27 minutes ago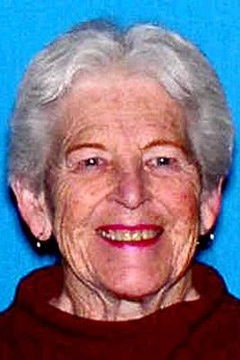 WATERBURY, Vt. (Oct. 5) -- The curious disappearance of a 78-year-old grandmother is now a murder mystery: A body found in the woods by two bird hunters has been identified as hers, and police Tuesday called it a homicide.

Investigators used dental records to identify the remains of Pat O'Hagan, a vibrant widow who lived alone in rural Sheffield, a town of about 700 residents in Vermont's verdant northeastern corner that has no stores or stoplights. O'Hagan, who had nine grandchildren, was reported missing Sept. 11 after not appearing for a date with a friend to go to a rug-hooking session.

Tightlipped police investigators, who have said O'Hagan was forcibly abducted, said Tuesday they know the cause of death but won't divulge it, saying they want to preserve the integrity of the investigation.

They aren't sure where O'Hagan died, said Maj. Edward Ledo, chief of the state police's criminal investigations bureau, who announced the positive identification Tuesday but wouldn't comment on the condition of the body or whether there were suspects.
Rad more: http://www.aolnews.com/crime/article/vt-police-body-is-missing-78-year-old-grandmas/19662237?icid=main|main|dl1|sec1_lnk3|175583www.aolnews.com

_________________
We come to love not by finding a perfect person, but by learning to see an imperfect person perfectly

Murder charge dismissed in O'Hagan's death
WILSON RING, Associated Press 4:28 p.m. EDT March 26, 2015
ST. JOHNSBURY – One of three men charged with breaking into the home of a 78-year-old grandmother and killing her agreed to cooperate with authorities in exchange for the dismissal of murder charges against him, the prosecutor said Thursday.
Richard Fletcher did not fire the shot that killed Pat O'Hagan in her Sheffield home in 2010, and there is little physical evidence that can be used to make the case against the other suspects, Caledonian County State's Attorney Lisa Warren said Thursday during a change of plea hearing.
"Based on the factual background as well as his role here in this case, we believe it is the appropriate resolution," Warren told Vermont Superior Court Judge Robert Bent in a St. Johnsbury courtroom.
Read more:  http://www.burlingtonfreepress.com/story/news/local/vermont/2015/03/26/murder-charge-dismissed-woman-death/70483000/

CuriousPortlander

Admin




Posts

: 3293


Join date

: 2012-05-17




---
Permissions in this forum:
You
cannot
reply to topics in this forum