Child killer Diane Downs up for parole - again
Posted on November 9, 2010 at 4:55 PM
Updated today at 8:25 AM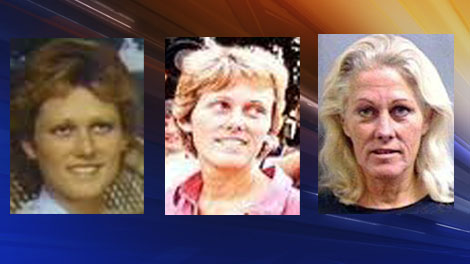 Diane Downs as a young mother in the early 1980s (left), the day she was captured in 1987 after escaping from prison (middle) and a photo taken in several years ago.
SALEM -- Oregon's most notorious child murderer, Elizabeth Diane Downs, will have a second parole hearing on Dec. 10.
The hearing will be at Chemeketa Community College via video link. Downs is now at an out-of-state prison.
She was convicted in 1984 of one count of murder and two counts of attempted murder in the shooting of her three children in Lane County.
Read more:
http://www.kgw.com/home/Child-killer-Downs-up-for-parole-again-107002848.html

Piper




Posts

: 10277


Join date

: 2009-07-12


Mood

:



I hope this baby killer is denied again. She does not deserve to be out of prison, but if they do let her out, I hope her kids never have to see her or hear from her.

_________________
"Children are the hands by which we take hold of heaven" -----Henry Ward Beecher


sitemama

Admin




Posts

: 29870


Join date

: 2009-07-09


Age

: 77


Location

: Caldwell/Catawba County, NC


Mood

:



Diane Downs' daughter goes public
Posted on May 18, 2010 at 1:39 PM
Updated Tuesday, May 18 at 4:59 PM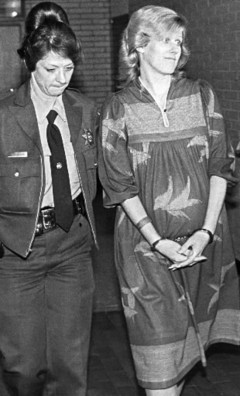 A pregnant Downs during her 1984 trial
EUGENE, Ore. (AP) -- It was 27 years ago Wednesday that single mother Elizabeth Diane Downs shot her three children -- killing one and seriously injuring the other two -- on a dark, rural Lane County road, in one of the most notorious murder cases in Oregon history.
From that warm spring night on May 19, 1983, when Downs claimed a "shaggy-haired stranger" had shot her kids, to the bizarre spectacle a year later when a very pregnant Downs appeared at her six-week trial in Eugene, to her brief escape from the Oregon State Penitentiary three years later, the entire tale has seemed like a made-for-TV murder mystery.
In fact, that's exactly what it became in 1989, two years after Seattle true-crime author Ann Rule's best-selling book, "Small Sacrifices."
So, after all these years, what else could possibly be revealed capable of shocking anyone?
How about the fact that the child Downs was pregnant with during her 1984 trial -- the product of Downs' brief fling with a Cottage Grove newspaper reporter -- has now gone public a month before her 26th birthday?
Rebecca Christine Babcock's story was told to ABC's "20/20" on Friday, and it also appears in the June issue of Glamour magazine that recently hit newsstands, a collaboration between the TV show and the magazine.
Read more:
http://www.kgw.com/home/Daughter-that-killer-Diane-Downs-carried-during-trial-goes-public-94196849.html

Piper




Posts

: 10277


Join date

: 2009-07-12


Mood

:



Becky Babcock: A Girl's Fight to Escape her Mother's Crimes
Babcock Recalls Learning Biological Mother Was Diane Downs, a Notorious Child Killer

By ELIZABETH VARGAS, GAIL DEUTSCH,
ALAN B. GOLDBERG and JESSICA HORNIG
May 14, 2010




On June 17, 1984, Diane Downs was found guilty of shooting her three children, killing one. She was sentenced to life plus 50 years for the crimes.

But as Downs was about to begin her new life behind bars, she brought new life into the world.

Just days after her conviction, Diane gave birth to a daughter. The baby girl was whisked away hours after delivery.

The baby was secretly driven to a hotel room and given to her adoptive parents, Jackie and Chris Babcock.

"Oh, gosh, she was adorable," Jackie Babcock told "20/20" in a recent interview. She was the typical little perfect baby."

Read the story here:
http://abcnews.go.com/2020/becky-babcock-mother-murderer/story?id=10635586



Piper




Posts

: 10277


Join date

: 2009-07-12


Mood

:



Diane Downs' next parole hearing won't be for 10 years

Published: Friday, December 10, 2010, 11:25 AM

SALEM -- Elizabeth Diane Downs, Oregon's notorious child killer, was denied parole today. It was her second parole hearing since her conviction in 1984 for shooting her 7-year-old daughter to death and injuring her two other children.

But this time the stakes for the 55-year-old inmate were higher.

When Downs was denied parole in December 2008, after serving nearly 25 years, she had the right to a new hearing two years later. But this time Downs faced -- and received -- a maximum of 10 years behind bars before becoming eligible for parole again, thanks to an Oregon law that went into effect in January.

~Snipped~
The board denies parole and prolongs Downs' next parole hearing for a decade, saying she has a "mental or emotional" condition that would render her a threat to society. The hearing ends.

After the decision, the lead investigator in her case, Doug Welch, says he is pleased that the parole board extended Downs' next release hearing for a maximum of 10 years.

"She got life plus 50," he says. "Let's see her do life."

He says that few things surprised him about the hearing, adding that Downs seems to be pretty much the same woman he interviewed in the hospital the night she shot her children. Calm. Emotionless. Without grief. Then, as now, she did not take responsibility for the murder of her daughter or the shooting of her other two children. "She will always maintain her innocence," Welch says.

http://www.oregonlive.com/pacific-northwest-news/index.ssf/2010/12/diane_downs_second_parole_hearing_held_in_salem.html

Piper




Posts

: 10277


Join date

: 2009-07-12


Mood

:




---
Permissions in this forum:
You
cannot
reply to topics in this forum