This is a story that I have been following on my blog and I wanted to bring it to the attention of RC because the perpetrator (alleged), Simon Lopez, has still not been apprehended. He was last seen in Dallas but managed to allude police although he may have been wounded during the attempted apprehension. The car that he was driving has also been recovered.
There is also a petition that has been set up to try and have America's Most Wanted feature Jeremy's case in hopes of finding Lopez. http://www.gopetition.com/petition/41834.html
Reward issued for E. TX man wanted for Capital murder of 1 y.o.

Posted: Nov 24, 2010 4:38 AM CST Updated: Nov 30, 2010 11:39 AM CST

Click image to enlarge

TYLER, TX (KSLA) - The search for an East Texas man wanted by Tyler, Texas Police for alleged capital murder of a one-year-old child continues.

Tyler Police say they have now located the 1995 Gray, Lincoln Town Car believed to have been driven by the suspect, 26-year-old Simon Lopez.

As of Monday, officers have still not located Lopez. Now authorities have offered a $1000.00 reward for information leading to Lopez's arrest.

Autopsy results were released last Wednesday (Nov. 24) for one-year-old Jeremy Silva and Tyler investigators say the cause of death appears to have been from a torn atrium in his heart, as a result of blunt force trauma to his chest.

Officials say the report also indicated that Jeremy had suffered prior abuse, including several broken ribs and previous bruising to his body.

On Wednesday, officers issued an arrest warrant for 26-year-old Simon Lopez, of Tyler on a charge of Capital Murder.

Lopez is reportedly the boyfriend to 19-year-old Emma Torres, the one-year-old's mother.

Investigators have not been able to locate Lopez and need the public's help. He is believed to be driving a 1995 Lincoln Town Car, 4-door, with Texas license plate number BZ9P316.

Jeremy's mother already faces charges in connection to this incident. Authorities say she is charged with a state felony, abandoning or endangering a child.

The two reportedly left Jeremy alone at their home with another child while Lopez had taken Torres to work in Lindale, Texas.

Jeremy was reportedly picked up at the home and taken to a local hospital by a relative. The child showed signs of physical abuse officials say and was pronounced dead on arrival by emergency room personnel.

The investigation continues and further details will be released as they develop.

2010 KSLA-TV. All rights reserved. This material may not be published, broadcast, rewritten, or redistributed.
If anyone would like to add to this story or post the pictures of Jeremy or Simon Lopez, I would appreciate it. I still haven't figured out how to insert pictures in my posts.
Again, thank you for taking the time to read about sweet Jeremy who was taken far too soon.
Flutter1, thank you for posting little Jeremy's information. My heart hurts for this sweet child.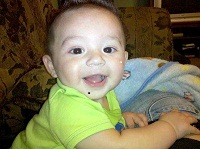 Piper




Posts

: 10277


Join date

: 2009-07-12


Mood

:



~Justice for Jeremy!~
WANTED FOR CAPITAL MURDER: Simon Lopez

Piper




Posts

: 10277


Join date

: 2009-07-12


Mood

:



flutter1, thank you for starting this thread.

Piper, thank you for posting the pictues of Jeremy and the Wanted for Murder picture of Simon Lopez.

It is sad that, per the autopsy, Jeremy suffered prior abuse to his death. How could anyone abuse a baby?

~ ~ ~ Justice for Jeremy ~ ~ ~


Ann - Tx




Posts

: 14657


Join date

: 2010-08-11


Location

: Texas


Mood

:



Good news in this case. Simon Lopez was apprehended in Mexico and has been returned to the United States to face charges in Jeremy's death.

http://www.ketknbc.com/news/tyler-man-wanted-for-murder-captured-in-mexico
Hi, flutter1!

I have not "seen" you in a while. Hope all is okay with you.

Thank you for this update! What wonderful news that Lopez was apprehended and will be held accountable in the death of baby Jeremy.

Please keep us updated as this case moves forward.



Ann - Tx




Posts

: 14657


Join date

: 2010-08-11


Location

: Texas


Mood

:



Simon Lopez was arraigned this morning and placed on $2 million $$ bond. He refused a court appointed atty, said his mom will hire an atty for him.

http://www.kltv.com/story/15177918/accused-baby-killer-simon-lopez-caught

(video also)

_________________
"Children are the hands by which we take hold of heaven" -----Henry Ward Beecher


sitemama

Admin




Posts

: 29862


Join date

: 2009-07-09


Age

: 76


Location

: Caldwell/Catawba County, NC


Mood

:



Thankful to know this POS has been apprehended...

Piper




Posts

: 10277


Join date

: 2009-07-12


Mood

:




Simon Lopez accepts plea deal, sentenced to life in prison
Posted: Nov 16, 2012 10:22 AM PDT  Updated: Jan 15, 2013 10:22 AM PDT
TYLER, TX (KLTV) -
An East Texas man was sentenced to life in prison for the 2010 capital murder of his girlfriend's one-year-old son.
Twenty-eight-year-old Simon Lopez pleaded guilty to killing the boy Friday. His plea came as part of a plea bargain in which the state withdrew their intent to seek the death penalty.
It was two years ago, next week, that 18-month-old Jeremy Silva Jr. was killed. Police said Jeremy and his four-year-old brother were left with Lopez while their mother, Emma Torres, was at work.
Torres was arrested on child endangerment charges for leaving Jeremy and his brother at home with Lopez. She is currently serving a two year state jail sentence for that charge.
Read more:  http://www.kltv.com/story/20119151/simon-lopez-sentenced-to-life-without-parole-in-death-of-1-yr-old

CuriousPortlander

Admin




Posts

: 3293


Join date

: 2012-05-17




---
Permissions in this forum:
You
cannot
reply to topics in this forum