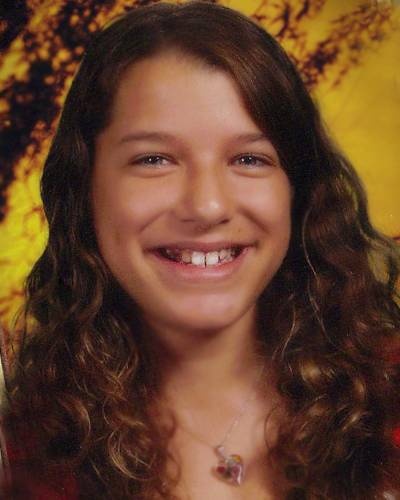 ASHLEY MARIE KINGSBURY
Case Type: Non Family Abduction
DOB: Mar 18, 1997 Sex: Female
Missing Date: Mar 14, 2011 Race: White
Age Now: 13 Height: 5'2" (157 cm)
Missing City: TUCSON Weight: 95 lbs (43 kg)
Missing State : AZ Hair Color: Brown
Missing Country: United States Eye Color: Hazel
Case Number: NCMC1167878
Circumstances: Ashley was last seen at home on March 14, 2011. She may be in the company of an adult male. She may still be in the local area or she may travel to Utah in a 2000 silver Hyundai Elantra with Utah license plates Z754UV.
http://www.missingkids.com/missingkids/servlet/PubCaseSearchServlet?act=viewChildDetail&LanguageCountry=en_US&searchLang=en_US&caseLang=en_US&orgPrefix=NCMC&caseNum=1167878&seqNum=1
Last edited by Piper on Fri Mar 18, 2011 10:33 pm; edited 1 time in total

Piper




Posts

: 10277


Join date

: 2009-07-12


Mood

:



Radio Amber Child Alert Issued
Mar 16th, 2011 | By Paul P | Category: Recent News and Alerts
Authorities are looking for a missing 13 year old girl, Ashley Marie Kingsbury. She met a 19 year old man on a networking website. They arranged to meet in person on Monday, March 14th, 2011.
No Amber Alert has been issued, but Ashley is considered endangered missing. She was last seen in the area of Old Vale Road & Collosal Cave Road in Tucson, Arizona on Monday afternoon.
She is believed to be traveling with 19-year-old Jordan Anthony.
Albert Kingsbury, the girls father, arrived home about 4 p.m. Monday and found signs of a struggle in Ashley's room. He discovered she had a secret Facebook account, and she considered Anthony to be her boyfriend.
According to reports the FBI removed bedding and broken glass from Ashley's room, in addition to dusting for fingerprints.
http://radioamber.net/?p=4432

Piper




Posts

: 10277


Join date

: 2009-07-12


Mood

:




Piper




Posts

: 10277


Join date

: 2009-07-12


Mood

:



How scary for a parent to come home and find what this father did! Signs of a struggle and broken glass - I wonder if she planned to leave with him and then changed her mind when he arrived, or if she never planned to leave in the first place?
What really matters more than any of that is finding this little girl and bringing her back home.
And arresting the guy who took her!
_________________
~Where the heart is willing, it will find a thousand ways. Where it is unwilling, it will find a thousand
excuses." ~
"Do not save your loving speeches
For your friends till they are dead;
Do not write them on their tombstones,
Speak them rather now instead."
- Anna Cummins
Hope Ashley is found soon!

Ann - Tx




Posts

: 14623


Join date

: 2010-08-11


Location

: Texas


Mood

:



I wonder how her father found the secret Facebook account so quickly.

Piper




Posts

: 10277


Join date

: 2009-07-12


Mood

:




Ann - Tx




Posts

: 14623


Join date

: 2010-08-11


Location

: Texas


Mood

:



Thank goodness she is alive. Thanks for the update, Ann! I'm sure severe charges are pending for the 19 year old, she is only 13. No matter what.......



Piper




Posts

: 10277


Join date

: 2009-07-12


Mood

:



This is an informative article that is in the Galveston County Daily News. Lot of important detail.
~~~~~~
Missing Ariz. teen found on isle with Utah man

By Chris Paschenko
The Daily News - Galveston, Tx

Published March 19, 2011

GALVESTON — An Arizona teen reported missing was found safe in Galveston early Friday morning, and police detained a man she was with on an out-of-state warrant, authorities said.

Ashley Kingsbury, 14, of Tucson, Ariz., was found at 1:05 a.m. with Jordan Munah-Chow-Yow Anthony, 19, of Pleasant Grove, Utah, in a 2000 Hyundai Elantra in a parking area at the easternmost edge of the seawall, Galveston police said.

Galveston police detained Anthony on a Class 3 felony warrant from Pima County, Ariz. Bond for Anthony was set at $200,000 on the custodial interference charge, Galveston police Sgt. Mark Pilsner and Pima County spokesman Jason Ogan, said. Galveston police didn't charge Anthony.
Read more:
http://galvestondailynews.com/story/218690/
______
Above text bolded by: Ann-Tx

Ann - Tx




Posts

: 14623


Join date

: 2010-08-11


Location

: Texas


Mood

:



---
Permissions in this forum:
You
cannot
reply to topics in this forum