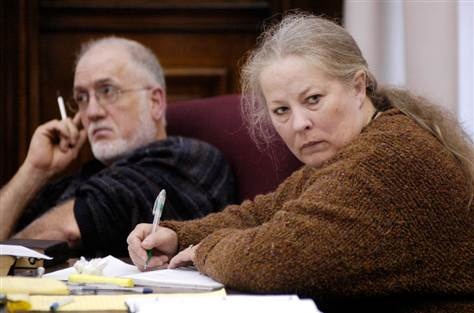 Michael and Sharen Gravelle ~ sentenced to two years in prison in 2009
03/21/11
Michael Gravelle was released from the Hocking Correctional Facility in Nelsonville Monday around 9am. He spent two years in prison for child endangering. Gravelle will now be required to serve three years probation.
His wife, Sharen, was released last week. She also spent two years behind bars.
The couple claimed they locked up the children to protect them and to keep them from wandering away during the night.
http://www.wtam.com/cc-common/news/sections/newsarticle.html?feed=122520&article=8320098

Piper




Posts

: 10277


Join date

: 2009-07-12


Mood

:



Michael and Sharen Gravelle adopted eleven special needs children in Clarksfield Township, Ohio. In 2003 they were indicted for child abuse for, among other things, keeping the children in homemade cages. They didn't have jobs and they were raking in $99,000.00 per year in adoption subsidies and state aid, not counting medical and treatment expenses billed directly to the government. And, they were in the process of adopting a 12th infant! IMO, two people cannot properly take care of that many special needs children, but this couple does have supporters and CPS was aware of issues.



Last edited by Piper on Mon Mar 21, 2011 12:55 pm; edited 1 time in total

Piper




Posts

: 10277


Join date

: 2009-07-12


Mood

:




Piper




Posts

: 10277


Join date

: 2009-07-12


Mood

:



Informative article what these children were put through under the so-called "Attachment Therapy" parenting they used, remember most of these children were special needs children that were kept in chicken wire/wood cages with alarms if the doors were opened at night. The therapist that supposedly instructed them in this was indicted on many felony counts of child abuse but she was able to plea-bargain her charges down.

Gravelle Adoptees

Victim of Attachment Therapy
Wakeman, Ohio
Rescued, 12 September 2005

The oldest of the former adopted children of Sharen and Michael Gravelle asked a judge "that they get as much time in jail for as long as my siblings had to be in cages." She added, "They are grown adults who know the difference between right and wrong."

The teenager was directing her comments to the judge about to sentence the Ohio couple who had been convicted of three counts of felony child-abuse for their use of Attachment Therapy on their 11 adopted children. It made national headlines for 18 months after authorities made the discovery that the Gravelles had for years been putting ten of their eleven adopted children, ages 1 to 14, in cramped, homemade cages, some totally lacking bedding and reeking of urine. Huron County Prosecutor Russell Leffler described the cages: "It's about chicken wire and wooden boards, being literally cooped up, hotter than blazes in summer, an amazingly shrill alarm and little fingers trying to tear wire." Former social worker Jo Ellen Johnson, who assisted the police in removing the children from the Gravelle home, said the stacked cages looked like "slave quarters."

Read more:
http://www.childrenintherapy.org/victims/gravelle.html

Piper




Posts

: 10277


Join date

: 2009-07-12


Mood

: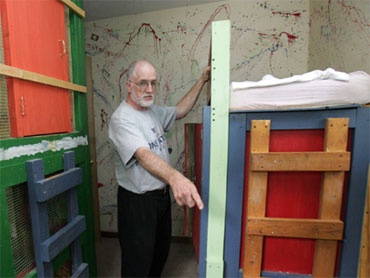 Michael Gravelle stands next to a bunk bed Sunday, Oct. 23, 2005, in the room where four of his adopted children slept
Caged Outrage: Kids Sue Adoptive Parents Michael and Sharen Gravelle for Keeping Them Caged Up
October 23, 2009
CLEVELAND (CBS/AP) It is the kind of case that can give a bad name to a noble cause.
Two adopted Ohio teenagers, whose adoptive parents forced them to sleep in cages, have now sued the couple and the caseworkers who arranged their placement.
~Snipped~
The parents also claimed they couldn't get a fair hearing after pictures of the cages, wood and wire enclosures, were released to the media.
The Gravelle children, who suffered from problems such as fetal alcohol syndrome and a disorder that involves eating nonfood items, ranged in age from 1 to 14 when authorities removed them from their home in September 2005.
Read more:
http://www.cbsnews.com/8301-504083_162-5413621-504083.html

Piper




Posts

: 10277


Join date

: 2009-07-12


Mood

:



Two of 11 children kept in cages by Michael and Sharen Gravelle file lawsuit

Published: Monday, November 15, 2010, 6:38 PM

CLEVELAND, Ohio -- Two more children who were kept in cages by their former adoptive parents Michael and Sharen Gravelle filed a lawsuit Monday in Cuyahoga County Common Pleas Court seeking damages for the abuse they endured from 1997 through 2005.

Their Cleveland-based attorney, Jack Landskroner, said the two girls, 11 and 12, are seeking costs for future psychological care they'll undergo "for what they've lived through in the past."

~Snipped~
The lawsuit contends that the approval was given despite records showing that Michael Gravelle was an admitted child molester.

Landskroner also said the lawsuit says the Gravelles met in sexual abuse counseling, had four prior marriages between them, and were previously involved with the Lorain County Department of Children's Services because their biological children claimed to live like prisoners and had several times attempted to run away.

Two other children - the Gravelles' oldest adopted children - filed similar lawsuits in October 2009.

Read more:

http://blog.cleveland.com/metro/2010/11/two_of_11_children_kept_in_cag.html



Piper




Posts

: 10277


Join date

: 2009-07-12


Mood

:




---
Permissions in this forum:
You
cannot
reply to topics in this forum