'Bourbon Women': Whiskey isn't just a man's drink
By BRUCE SCHREINER — Associated Press
Posted: 3:02am on Apr 11, 2011; Modified: 5:01am on Apr 11, 2011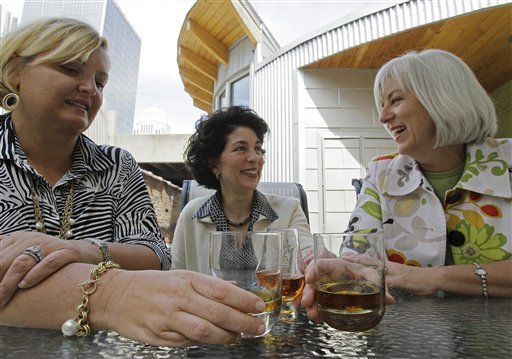 LOUISVILLE, Ky. — Marketing executive Peggy Noe Stevens sticks to basics when savoring Kentucky bourbon - no splash of water, just ice, stacked.For the uninitiated, that's one ice cube at a time, followed by equal shots of bourbon. Then she lets the whiskey settle before sipping.
Just my style!
Stevens, a former whiskey industry executive, is a bourbon aficionado and founder of a new group called Bourbon Women. And she's finding out there are plenty of other women who share her affinity for Kentucky's signature whiskey, now that the industry is offering a growing lineup of higher quality, small-batch products.
"I think there's this sense of relief that finally we were at a point where we can be taken seriously as women who enjoy bourbon and the lifestyle that accompanies it," said Mary Quinn Ramer, a founding board member from Lexington.
"That it's just not for men anymore."
The group will offer plenty of chances for bourbon tastings, distillery visits and girls' nights out, along with tips on new bourbon-laced recipes and how to liven up parties.
Go whiskey girls!
Read more: http://www.kentucky.com/2011/04/11/1704093/bourbon-women-whiskey-isnt-just.html#ixzz1K7KfN

Piper




Posts

: 10277


Join date

: 2009-07-12


Mood

:



Hah! Every woman in my family has been Bourbon drinkers (stacked-but they never measured)! I never knew it was a man's drink though the men in my family would drink it if not having beer or Scotch. The women would have one drink while fixing dinner then have one drink after dinner before cleaning up the dishes. No wonder everything they cooked was so delish!-

Me? I don't drink anymore but I may just pick up a bottle of Bourbon for that after dinner drink with the hubs.

Sherry




Posts

: 1898


Join date

: 2009-10-17


Mood

:




Piper




Posts

: 10277


Join date

: 2009-07-12


Mood

:




---
Permissions in this forum:
You
cannot
reply to topics in this forum