Manhunt captures accused abductor
August 7, 2011
By Greg Bock (gbock@altoonamirror.com)
The Altoona Mirror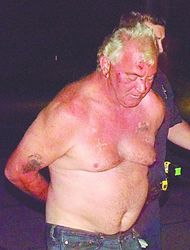 TYRONE - A Greene County man abducted a 6-year-old Saturday afternoon, police allege.

Dennis J. Stehley, 57, snatched the girl from a residence on the 1000 block Jefferson Avenue at about 3:15 p.m. and took the girl to a wooded area off Kettle Road in Tyrone Township, police said in court documents filed by Tyrone Borough Police late Saturday.

A Pennsylvania State Police helicopter spotted Stehley, police said, after police were put on alert that Stehley had taken the girl and had threatened to sexually assault the child. Police spotted Stehley walking in the woods a short distance from his red Ford Ranger pickup truck and police converged on the scene, near the reservoir.

The child was found in the woods after police heard her calling for help, police said. She said he lured her into his truck with promises of a puppy and that Stehley "hurt her" in the woods. Police allege he also grabbed her by the hair and threatened to hit her in the head with a rock.
Full story: http://www.altoonamirror.com/page/content.detail/id/552518/Manhunt-captures-accused-abductor.html?nav=742
_________________
~Where the heart is willing, it will find a thousand ways. Where it is unwilling, it will find a thousand
excuses." ~
"Do not save your loving speeches
For your friends till they are dead;
Do not write them on their tombstones,
Speak them rather now instead."
- Anna Cummins
Wow. Doesn't he look like a real winner. Where do these guys get off thinking they have the right to hurt children?

I know it's not the proper thing to do, but couldn't we just shoot every one of these guys as we catch them?
_________________
~Where the heart is willing, it will find a thousand ways. Where it is unwilling, it will find a thousand
excuses." ~
"Do not save your loving speeches
For your friends till they are dead;
Do not write them on their tombstones,
Speak them rather now instead."
- Anna Cummins

---
Permissions in this forum:
You
cannot
reply to topics in this forum