http://ca.news.yahoo.com/blogs/pulseofcanada/justice-served-death-two-old-maximus-huyskens-155100931.html
On June 26, Leslie Macdonald, the 52-year-old grandmother of two-year-old Maximus Huyskens, failed to drop the boy off at daycare, instead leaving him buckled in his car seat in the back of her car. When she went to the daycare to pick him up that afternoon, she found the boy still in the back seat, dead.
(snipped)
Court records revealed Wednesday that Macdonald pleaded guilty to the crime of failing to provide the necessities of life. She received a suspended sentence plus two years of probation. She had also been charged with criminal negligence causing death, but that charge was withdrawn.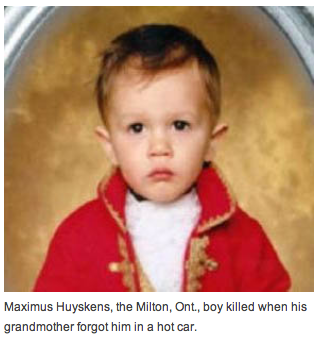 justanopinion




Posts

: 2342


Join date

: 2011-11-18


Location

: North of the Equator; South of the Pole


Mood

:



My answer is a resounding NO!.

Alessandra_Deux




Posts

: 21188


Join date

: 2012-05-12



I can't believe I am saying this… but I am torn… I think that maybe Grandma should not have been left responsible… but would still like to see her do time and lots of it! Or maybe the mother!

I think that too often in the haste to make a thrifty decision parents are not honest with themselves about the abilities of the grandparents to make good decisions or to be "on the ball" There has been a lot of cheap daycare that is not safe for infants or children.. makes me furious!

justanopinion




Posts

: 2342


Join date

: 2011-11-18


Location

: North of the Equator; South of the Pole


Mood

:



I don't understand how she could put the child in the car seat and not remember to take him to day care! You would think that would be the last thing you would do before getting in the car. What a tragedy, she will have to live with this for the rest of her life and face her daughter as well.
I think she should have got some jail time.

Trueblue




Posts

: 7925


Join date

: 2011-09-27


Age

: 78


Location

: down under


Mood

:



This happens way too many times. People who are not used to dropping children off, and if the child is sleeping or quiet, they can tend to forget about the child. This could have been avoided had the mother just called her mother to check, which would have reminded the grandmother of her grandchild.

Not too long ago, a doctor did the very same thing. He ran into his office and became engrossed with his work and totally forgot about his toddler in the car seat. It wasn't until the mother called him that he remembered and ran outside to find the child dead. She called a little too late. You really don't know whom to blame in a situation like this. It is obviously an accident. I doubt that the grandmother deliberately left the child in the car.

This is truly a case which the grandmother will have to live with for the rest of her life.

Gizmo711




Posts

: 804


Join date

: 2012-05-12




---
Permissions in this forum:
You
cannot
reply to topics in this forum