Italy
The long read
The murder that has obsessed Italy
On 26 November 2010, Yara Gambirasio, 13, went missing. Three months later her body was discovered in scrubland nearby. So began one of the most complex murder investigations in Italian history, which will reach its climax later this year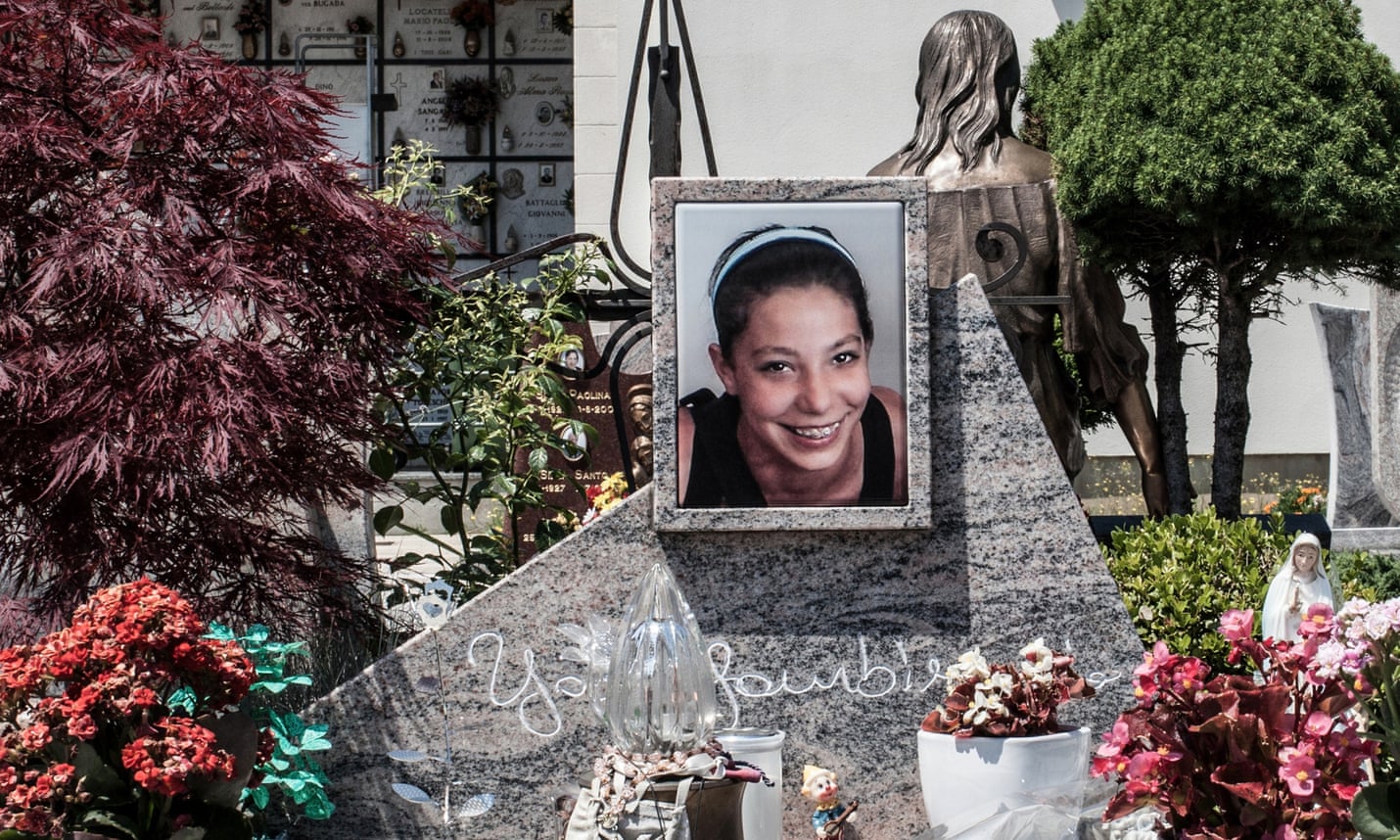 The grave of Yara Gambirasio who was murdered in northern Italy in 2010. Photograph: Calogero Russo/LUZphoto/eyevine
Tobias Jones
Thursday 8 January 2015 01.00 EST
Yara Gambirasio should only have been gone a short while. On Friday 26 November 2010, at 5.15pm, she left home to go to the gym, just a few hundred metres from her home. Yara, who was 13 and wore train-track braces, was preparing for her rhythmic gymnastics display the following Sunday. All she needed to do was drop off a stereo with her instructor. She said goodbye to her family, who knew where she was going, and left the house.
By 7pm, Yara had still not come home and her parents were becoming increasingly anxious. The town where they lived, Brembate di Sopra, was a sedate place, on the so-called "Bergamask island" between the rivers Brembo and Adda. An hour north of Milan, and just south of the Bergamo Alps, it has a population of 8,000. From its quiet streets, lined with poplars and cypresses, you can see the wooded mountains in the distance, the peaks turning blue-grey. At 7.11pm, Yara's mother phoned her daughter, but the call went straight to voicemail. Twenty minutes later, Yara's father called the police.
The call was put through to the public prosecutor's office, in the centre of the provincial capital Bergamo, a city 11km east of Brembate di Sopra. The magistrate on duty was Letizia Ruggeri, 45, a tough former policewoman who had earned her stripes fighting Cosa Nostra in Sicily. She had been a magistrate for almost 15 years, and knew what needed to be done. Within minutes she had dispatched both state police officers and carabinieri, military police, to Brembate di Sopra.
~Snipped~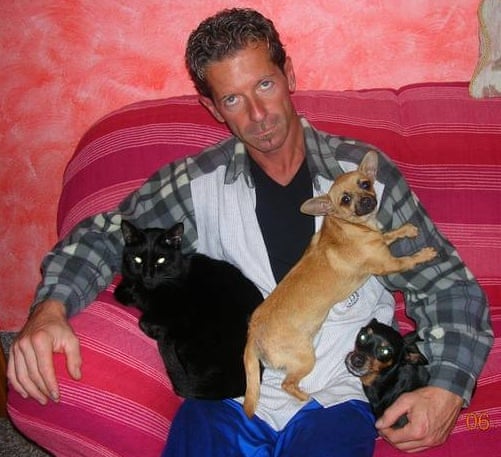 Massimo Bossetti, the man accused of murdering Yara Gambirasio. Photograph: The Guardian
Read more:
http://www.theguardian.com/world/2015/jan/08/-sp-the-murder-that-has-obsessed-italy

Alessandra_Deux




Posts

: 21188


Join date

: 2012-05-12



Yara Gambirasio was a keen gymnast.
The province of Bergamo
http://www.msn.com/en-us/news/world/the-murder-that-has-obsessed-italy/ar-AA7Vxgj?fullscreen=true#image=2

Alessandra_Deux




Posts

: 21188


Join date

: 2012-05-12



RELATED ARTICLES:
Bossetti Filmed At Yara's Gym
Alleged killer unwittingly confirms he is "Unknown Male Number One" in attempt to explain bloodstains
di FIORENZA SARZANINI
July 11, 2014
Massimo Giuseppe Bossetti's decision to face questioning
over how his DNA came to be on Yara Gambirasio's underwear could turn out to be a spectacular own goal. The defence may have made a tactical error in their contest with the prosecution as the trial, which prosecutors want to be held immediately, draws nearer. For the man charged with abducting the girl, raping her and leaving her to die in a field at Chignola d'Isola has acknowledged the validity of the evidence and admitted that he is "Unknown Male Number One". In all probability, he did so unaware that tests just carried out have given investigators further proof of his presence near the sports centre in Brembate Sopra shortly before Yara was abducted. Film from a previously unexamined security camera at a petrol station a stone's throw from Yara's gym shows that his van was a few metres away on the afternoon of 26 November 2010.
Read more:
http://www.corriere.it/english/14_luglio_10/bossetti-filmed-at-yara-s-gym-dcb7dc60-082c-11e4-9d3c-e15131ae88f3.shtml
___________________________
Europe
In Search for Killer, DNA Sweep Exposes Intimate Family Secrets in Italy
By ELISABETTA POVOLEDO JULY 26, 2014
The cemetery in Italy, where Yara Gambirasio, 13, is buried. She was found dead in 2010 and in the search for her killer, the police gathered genetic samples from nearly 22,000 people. Credit Alessandro Grassani for The New York Times
ROME — The body of Yara Gambirasio, a 13-year-old student, was found on a chilly day in a quiet northern city in Lombardy in February 2011, three months after she was reported missing following a gymnastics practice. The autopsy showed she had been beaten but not sexually abused, stabbed several times and left to die in a field less than 10 miles from her home.
The autopsy also revealed stains on the young girl's frayed clothing: a liquid that contained the DNA of a person whom investigators called "Unknown Male No. 1."
In the absence of other evidence, investigators embarked on the country's largest DNA dragnet, taking genetic samples from nearly 22,000 people.
Read more:
http://www.nytimes.com/2014/07/27/world/europe/in-search-for-killer-dna-sweep-exposes-intimate-family-secrets-in-italy.html?_r=0
___________________________
"Bossetti did not go in the yard the day of the murder of Yara" – Corriere della Sera
Milan , September 12, 2014 – 7:31
ROME – On the day of the disappearance of Yara Gambirasio, Massimo Giuseppe Bossetti not go to work. That afternoon, a few minutes before the thirteen year old was taken away, his truck went around the gym where the girl had gone to bring a stereo. It is the last piece added by the investigators in the investigation against the mason accused of kidnapped and later killed the girl. It is a blatant contradiction to the story told by the suspect during interrogation in the court when he denied being the murderess and then rebuilt their movements of 26 November 2010, stating without hesitation: "I was passing by the area of ​​the sports center because I came from the yard of Palazzago and went home. "
Read more:
http://newssofthedays.blogspot.com/2014/09/bossetti-did-not-go-in-yard-day-of.html
___________________________
Bossetti alibi false, investigators say

Report says that Bossetti didn't go to work on day of murder
12 September 2014
~Snipped~
Investigators used telephone records, surveillance video, and testimony from colleagues and residents of Brembate Sopra, where Bossetti lived at the time of the murder, to rebut Bossetti's alibi.
Read more:
http://www.ansamed.info/english/news/general_news/2014/09/12/bossetti-alibi-false-investigators-say_a537d458-205c-49e8-aa7c-96061497d334.html
___________________________
Bossetti to remain in jail in murder case

Reexamination court confirmed pre-trial custody order
20 October 2014
(ANSA) - Milan, October 20 - A Milan court on Monday confirmed the decision to keep the chief suspect in the 2010 murder of 13-year-old Yara Gambirasio in pretrial custody.
The decision on Massimo Bossetti came from the appeals court that uses external sources to determine whether pre-trial custody is warranted or not.
It came nearly a month after a court in the northern city of Bergamo rejected the original defence motion to release Bossetti.
Read more:
http://www.ansa.it/english/news/2014/10/20/bossetti-to-remain-in-jail-in-murder-case_5c3b37c8-27c7-45da-bba9-785db85a3640.html
___________________________
The Murder Mystery Solved by DNA From the Back of a Postage Stamp
By Nicholas Farrell
  / November 10, 2014 8:15 AM EST
Filed Under: World, Italy, DNA, Molcular Biology, genetics
Read more:
http://www.newsweek.com/2014/11/14/murdery-mystery-solved-back-stamp-282052.html

Alessandra_Deux




Posts

: 21188


Join date

: 2012-05-12



RELATED ARTICLES:
Bergamo: threats and censorship for book on Yara murder
18 marzo 2014    |   di Lorenzo Di Pietro
An email to the publisher announces the will to prevent in every way the publication of the book-inquiry by the journalist Mr Salvo Bella.
"I'm willing to do anything to don't let this fucking book out" was written in an email received on the evening of February 23rd by Gruppo Edicom, publisher of the book
Yara, Orrori e Depistaggi
(Yara, horrors and false leads), which delved into the murder of Yara Gambirasio, the girl from Brembate (in the province of Bergamo) who disappeared on the evening of November 26th, 2010, and whose body was found in a field four months later.
The email was signed and accompanied by the telephone number of the author, who identified himself as the entrepreneur from Padua, who in December 2013 had made an offer of 20'000 euros in cash to anyone who, through the daily Il Giornale di Bergamo, provided useful information to solve the case.
Read more:
http://notiziario.ossigeno.info/2014/03/bergamo-threats-and-censorship-for-book-on-yara-murder-41732/

Alessandra_Deux




Posts

: 21188


Join date

: 2012-05-12




Yara Gambirasio: Massimo Bossetti, 365 days in prison without trial man already condemned by the Minister (PHOTOS)
Published: 06/16/2015 10:57 EDT
(This article is translated into English via Google)
...After a year of speculation and questions that were answered in part, now is the time of the trial that will begin Friday, July 3 before the Court of Assizes of Bergamo . Bossetti, who has always maintained his innocence and has never shown strong signs of slowing, risks life imprisonment.
Read more:  http://translate.google.com/translate?hl=en&sl=it&u=http://www.huffingtonpost.it/2015/06/16/bossetti-un-anno-fa-arresto_n_7591952.html&prev=search
-----
Moving from Developing Stories to Awaiting Trial.

CuriousPortlander

Admin




Posts

: 3293


Join date

: 2012-05-17




---
Permissions in this forum:
You
cannot
reply to topics in this forum