Newborn with Umbilical Cord Still Attached Found Abandoned in Stroller: 'His Pajamas Were Soaked in Sweat'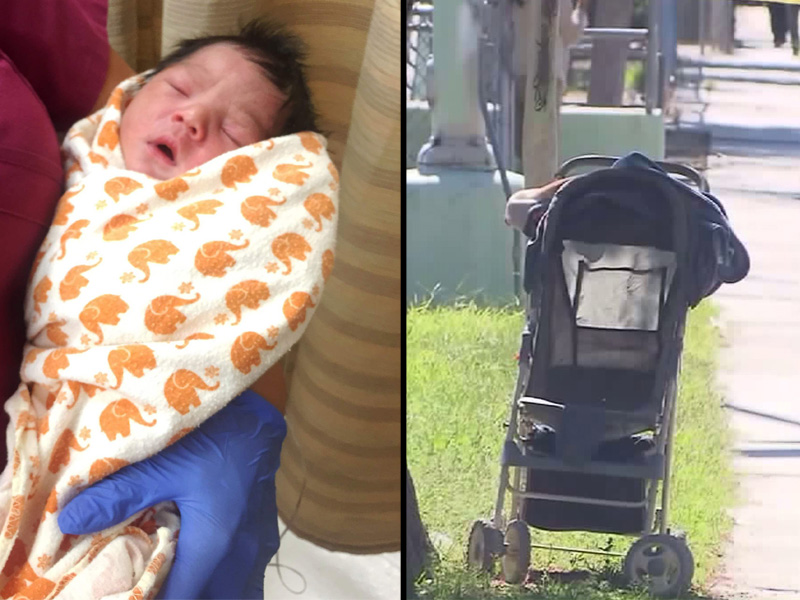 By
Tara Fowler
@waterfowlerta 08/05/2015 AT 08:35 AM EDT
Alex Diaz was walking along a Los Angeles street on Monday evening when he spotted an abandoned stroller with a blanket thrown over it outside a church.

He didn't think twice and kept on walking. But the next afternoon, while out with his two young sons, something made him take a closer look. He lifted the blanket and found a newborn baby underneath, WKBN reports.


"When I got up close to the stroller and the blanket was clean, it was just like, 'Oh, I hope nobody did this, I hope I'm not about to find a baby in here,' and sure enough that's what happened," Diaz told KABC.
Investigators said the baby boy appeared to be just a day old. "It was burning hot. He was sweating," said Diaz. "His pajamas were soaked in sweat."
He added: "It was horrible. I don't know how somebody can do something like that, not even animals do that."
Read more:
http://www.people.com/article/newborn-umbilical-cord-still-attached-found-abandoned-stroller

Alessandra_Deux




Posts

: 21161


Join date

: 2012-05-12



Newborn boy, umbilical cord still attached, is abandoned north of USC
A baby boy was found Tuesday afternoon at the intersection of South Vermont Avenue and Dana Street, Los Angeles police said. (Los Angeles Police Department)
By
Lauren Raab
August 4, 2015, 5:05 PM
A newborn boy was found alone in a stroller Tuesday afternoon, about half a mile north of the USC campus, the Los Angeles Police Department said..
The baby was so young, the umbilical cord was still attached.
About 1 p.m., police received a call from someone who had discovered the stroller on the sidewalk at South Vermont Avenue and Dana Street. That intersection is home to a strip mall, an elementary school and a church.
The infant was taken to a local hospital and is in stable condition, according to police. Detectives are trying to find his family and want to know who left him on the street.
Anyone with information is asked to call police at (213) 485-2582.
Read more:
http://www.latimes.com/local/lanow/la-me-ln-newborn-baby-abandoned-20150804-story.html

Alessandra_Deux




Posts

: 21161


Join date

: 2012-05-12




Alessandra_Deux




Posts

: 21161


Join date

: 2012-05-12




Alessandra_Deux




Posts

: 21161


Join date

: 2012-05-12



The abandoned stroller (via ABC 7)
http://laist.com/2015/08/04/newborn_abandoned_south_la.php

Alessandra_Deux




Posts

: 21161


Join date

: 2012-05-12




Mother, 20, Arrested After Allegedly Abandoning Newborn in South L.A. With Umbilical Cord Still Attached
Posted 12:04 PM, August 8, 2015, by Ashley Soley-Cerro
A 20-year-old woman was arrested Saturday, days after a newborn baby boy who still had his umbilical cord attached was found in an abandoned stroller on a South Los Angeles street corner, police said.
Belen Ramirez was arrested Saturday around 12:30 a.m. near the University of Southern California campus, Los Angeles Police Department Officer Mike Lopez said.
...It was not known why the mother left the baby and additional information about the child's father and family members was not known.
Read more:  
http://ktla.com/2015/08/08/mother-20-arrested-after-allegedly-abandoning-newborn-with-umbilical-cord-still-attached-in-south-l-a/

CuriousPortlander

Admin




Posts

: 3293


Join date

: 2012-05-17



---
Permissions in this forum:
You
cannot
reply to topics in this forum