Police Seek Anwers After Body Of Missing Woman Found In Coral Springs
August 21, 2015 6:36 PM
By
Oralia Ortega
CORAL SPRINGS (CBSMiami) – The Coral Springs Police Department is asking for the public's help in figuring out what happened to a missing woman whose body was discovered in a wooded area near a high school.
According to Coral Springs Police, a man walking down the street discovered the woman's body off the 7200 block of Sample Road just east of Coral Springs High School sometime around 6:00 p.m. Thursday.
The body of Magdalena Weich was found off the 7200 block of Sample Road just east of Coral Springs High School.
(Source: Coral Springs Police Department)"Based on the way her that her body was discovered, it appears that it was placed at that location and it doesn't appear to be where she was deceased. She happened to have been put there by somebody.  That's why we're looking for information, if anyone saw anything in the area,"
said Carla Kmiotek with Coral Springs Police.
Police say there were no obvious signs of trauma on the body, but are calling the incident "suspicious in nature."
Investigators have identified her as 38-year-old Magdalena Weich.

Police say her live-in boyfriend, Enrique Macotela, reported her missing on Wednesday.
Read more:
http://miami.cbslocal.com/2015/08/21/police-seek-anwers-after-body-of-missing-woman-found-in-coral-springs/
--------------------------
Missing Coral Springs woman's body found in woods; death deemed suspicious (Video)
By
Erika Pesantes
,
Lisa J. Huriash
and
Tonya Alanez
Sun Sentinel staff
Coral Springs woman had been missing since Tuesday, body found in wooded area Thursday
August 21, 2015, 10:14 PM |
CORAL SPRINGS
The body of a missing woman was found Thursday in a wooded area near Coral Springs High School and police are calling it a suspicious death..

Magdalena Weich, 38, of Coral Springs, was reported missing late Wednesday by her boyfriend, authorities said
~Snipped~
Police are asking the public to come forward with information about people seen walking in the vicinity of the discovery or vehicles parked or broken down in the area anytime between Tuesday and Thursday evenings, Kmiotek said.
When Enrique Macotela reported Weich was missing, he told police she never returned home Tuesday after walking to Barnes & Noble, 2790 N. University Drive, to study, authorities said.
While he was playing tennis with friends, Weich texted Macotela to let him know she would be studying at the bookstore, according to a police incident report. But she didn't return home and had left her purse, keys and cellphone at home.
Read more:
http://www.sun-sentinel.com/local/broward/fl-coral-springs-homicide-investigation-20150821-story.html
Last edited by Alessandra_Deux on Mon Nov 09, 2015 1:30 pm; edited 1 time in total

Alessandra_Deux




Posts

: 21188


Join date

: 2012-05-12



Police Arrest Boyfriend of Florida Woman Found Dead Two Months Ago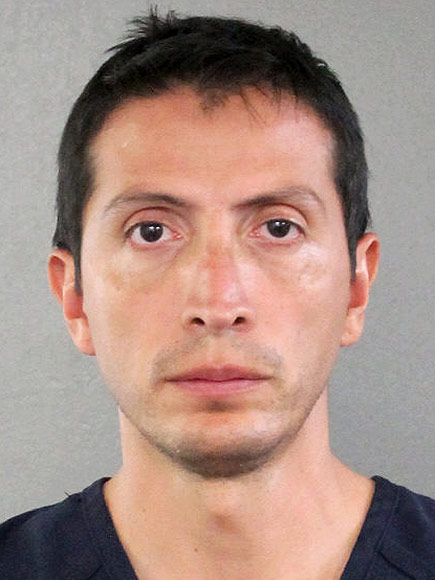 Enrique Macotela
Courtesy Broward Sheriff's Office
By
Chris Harris
@chrisharrisment 11/04/2015 AT 04:15 PM EST
Florida police have brought murder charges against the 43-year-old boyfriend of a Polish immigrant whose body was discovered in a wooded area more than two months ago.
Enrique Macotela was charged with felony murder on Wednesday morning in the death of Magdalena Weich, according to Broward Count court documents obtained by PEOPLE.
The lifeless body of Weich – the 38-year-old mother of Macotela's 4-year-old son – was found left in the woods alongside a roadway in Coral Springs. The cause of her death has not yet been revealed.
Read more:
http://www.people.com/article/man-charged-with-girlfriend-murder

Alessandra_Deux




Posts

: 21188


Join date

: 2012-05-12



Cops say videos from bus, neighbors linked man to girlfriend's murder (Video)
Magdalena Weich's body was found in a wooded area in Coral Springs in August.
By
Lisa J. Huriash
Sun Sentinel
November 4, 2015, 5:44pm
The live-in boyfriend of Magdalena Weich, now accused in her death, was ordered held without bond during a first-appearance court hearing Wednesday after police alleged he murdered her and dumped her body in the woods.
Enrique Macotela, 43, was charged with second-degree murder late Tuesday. He was arrested at his home, and booked into Broward's Main Jail shortly after 10:30 p.m.
It took more than two months for Coral Springs police to crack the case that the county's associate medical examiner said was "highly suspicious for a violent death," according to Macotela's arrest warrant, obtained Wednesday afternoon.
~Snipped~
Among the police findings revealed in the warrant: Macotela was observed by detectives vacuuming his van; he went to a North Lauderdale Home Depot to buy soap, a hand cart and garbage bags; he washed their bedsheets the day before he reported her missing; and Weich's DNA was found in his van despite his insistence that she never rode in it.
Police also said they have 12 segments of video surveillance footage from eight different video systems — including nearby businesses and county buses — that show him driving from his townhouse complex, "to the exact location Magdalena's body was discovered" and back to his home. They also have video of the van parked at the spot near where her body was found, with headlights on and hazard lights flashing.
"No other minivan has ever been observed inside Parkside Townhomes that resemble Macotela's minivan," according to the arrest warrant.
The couple had a four-year old boy together; he has been in a foster home under state supervision since her death.
Read more:
http://www.sun-sentinel.com/local/broward/coral-springs/fl-coral-springs-killing-arrest-folo-20151104-story.html

Alessandra_Deux




Posts

: 21188


Join date

: 2012-05-12



Evidence Leads to the Arrest for the Murder of Coral Springs Women
November 4, 2015 by Sharon Aron Baron
Magdalena Weich
The boyfriend of Magdalena Weich was taken into custody on Tuesday night and booked on second degree murder.
According to Coral Springs Sergeant Carla Kimiotek, Enrique Macotela, 43, a key piece of evidence were several videos from local businesses showing the suspect's vehicle in the area where the victims body was discovered.  
One video on Auguest 19, shows the suspect's car pulled off the north side of Sample Road within 15 meters of where Weich's body was found
, with its headlights and flashers on at approximately 5:24 a.m.
On August 20, 38 year-old Weich's body was found lying in the heavily wooded area just north of Sample Road and east of Coral Springs High School.
Enrique Macotela reported Weich missing to police and said that on August 18, she had told him she was going to Barnes & Noble to study.  He said she never returned home, even leaving her cellphone, purse and keys at home and he was further concerned because he had spoken to her boss who said she did not show up for work at MCCI Medical in Tamarac.  Magdalena Weich's boss told police she last saw her on Aug. 17.
Macotela is being with no bond at the Main Jail.
Read more:
http://coralspringstalk.com/evidence-leads-police-to-the-arrest-of-the-murdered-coral-springs-women-13141

Alessandra_Deux




Posts

: 21188


Join date

: 2012-05-12




---
Permissions in this forum:
You
cannot
reply to topics in this forum