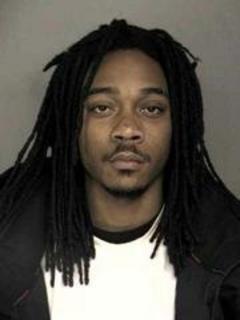 photo courtesy of Newark Police
Shaheed Wright, 25, of East Orange, was arrested Friday after allegedly putting cocaine in his 4-year-old son's pocket after a brush with police. One classmate of the child ingested the cocaine.
NEWARK -- Shaheed Wright feared police were closing in on him, authorities say, so he hid his bags of cocaine in his son's jacket pockets, telling the child that it was candy.
And when the boy arrived at his daycare center in Newark on Friday morning, he did what any other 4 year old might: The boy handed the white powder out to his friends.
One girl ate it.
She was rushed to Beth Israel Medical Center in Newark along with Wright's son and two other boys from the day care suspected of eating cocaine. They all turned out to be fine and were released to their parents, according to Todd McClendon, a spokesman for Newark Police.
Wright, meanwhile, was arrested Friday afternoon in the hallway of his apartment building on South Munn Avenue in East Orange. The 25-year-old man is accused of endangering the welfare of a child, possession of a controlled substance with intent to distribute and other charges, including employing a juvenile in a narcotics scheme.
He emerged shackled yesterday from Newark Police Headquarters, his hair in long dreadlocks, his face downcast. When asked if he wanted to say anything to the parents of the other children, he looked up for a moment.
"I apologize deeply," Wright said.
He is being held on $400,000 bail and scheduled to be arraigned Monday morning in Superior Court in Essex County.
The children were identified only as a girl and three boys, all 4-years old.
A teacher at Clinton Avenue Daycare Center first noticed the girl had something odd in her mouth at about 9:30 a.m. Friday, police said. The teacher looked closer and noticed a small plastic bag filled with the white powder.
Then, she called an ambulance.
It turned out only the girl actually swallowed the cocaine, McClendon said.
The center, a three-story townhouse near Lincoln Park, was closed yesterday. Attempts to reach the owner were unsuccessful.
Authorities suspect Wright shoved the cocaine into his son's pockets following a "near brush" with police. McClendon said he was unable to elaborate on when or where the encounter occurred.
But when they searched the boys' pockets, police found multiple bags of cocaine, McClendon said.
The Division of Youth and Family Services plans to conduct a separate investigation into the incident, McClendon said. A spokeswoman for the agency said state law did not allow her to comment on the status of the investigation.
http://www.nj.com/news/index.ssf/2009/09/mt-preview-947c5ded2485d235d235d83ee259c1905b2f1a6b.html

_________________
We come to love not by finding a perfect person, but by learning to see an imperfect person perfectly
Can you imagine?
For goodness sakes. I saw this on my local news and was floored! They need to make an example out of this guy. The centers owner must be beside themselves, not to mention the childrens parents. Can't even send your child to daycare without worrying about drugs!

_________________
We come to love not by finding a perfect person, but by learning to see an imperfect person perfectly
Who in their right mind would stuff cocaine in a child's pocket and tell them it was candy? Did it occur to the guy that his son or somebody else might eat the cocaine since the son believed it was candy? I'm glad the girl who ate it ended up being okay. If this guy has custody of his son, I hope he loses it.

Justice4all

Admin




Posts

: 9745


Join date

: 2009-07-02


Age

: 43


Location

: Michigan


Mood

:




---
Permissions in this forum:
You
cannot
reply to topics in this forum